The date was September 29, 2004. On the closed-session agenda for the Santa Barbara County Board of Supervisors was a performance review of Mike Brown, who'd been the county administrator for the past six years. It was the supervisors' first chance to evaluate Brown fully since they'd paid out nearly $1 million to former personnel director Ann Goodrich, who claimed Brown had retaliated against her when she complained about his "harassing workplace conduct." But the review wasn't just concerning Goodrich-there were other concerns about Brown's performance, "serious concerns" as some described them.
That autumn, the county's balance of power was on the verge of a dramatic shift, a reality that wasn't lost on the supervisors that morning. Months earlier, Brooks Firestone, a businessman and property-rights Republican, had been elected to replace the environmentally minded Democrat Gail Marshall as 3rd District supervisor, the pivotal swing seat on a five-seat board usually split between right-leaning North County supes and left-leaning South Coast ones. Though he wouldn't be sworn in until January 2005, Firestone-who never returned repeated phone calls for this story-had already expressed confidence in Brown, even threatening to reinstate the administrator with the incoming conservative majority if Brown's contract wasn't renewed.
So the lame duck performance review resulted in a new seven-month contract for Brown, which was unanimously approved one week later. The vote was later regretted by the entire 2004 board majority. "One of my failures as a public servant was in not reevaluating Mike Brown's contract and duties before I left the board," Marshall said recently. "I think he should've been replaced."
Instead, one of Firestone's first objectives once in office was to give Brown more authority, according to the supervisor's former aide Bob Field. Empowering Brown with more departmental oversight and control was first proposed by 5th District Supervisor Joe Centeno, but the old board majority wouldn't stand for it. Now, with Firestone onboard, the needed votes to pass such an ordinance were locked in, and in March 2005, the supervisors voted unanimously to turn County Administrator Mike Brown into the county's executive officer, or CEO, thereby endowing him with increased responsibility, duty, and power. Said retired deputy CEO Jim Laponis, "The board directly wanted it, and directly set it up."
Since then, Brown-contrary to what he purports, but according to the vast majority of the more than 60 people contacted for this story-has become the most powerful person in the county, even surpassing the supervisors in day-to-day control of county affairs. While the CEO structure has led to some streamlining and higher efficiency, it's also created controversy and fostered friction inside and out. Brown has chopped off communication between department heads and supervisors and between county staff and the public. There's been top-level turnover in every department he oversees and, down the ranks, morale is suffering due to Brown's heavy-handed, dictator-esque reputation. A loss of trust and a sense of retaliation now pervade much of the county bureaucracy. On top of all of this, Brown's volatile temper and questionable judgment have caused him to be put on administrative leave, triggered at least three official complaints, and cost the county nearly $1.4 million. And Brown's left a similar trail of tribulations in his power-centralized wake in other jurisdictions where he's served.
But this January, with Doreen Farr taking the 3rd District reins, the board's balance of power shifted back to a left-leaning majority for the first time since 2004. Even before the final ballot was counted, county workers and watchers were abuzz with questions about the future of the CEO position and of Brown himself. Many believe that Brown has used the new position to tighten power in dangerous ways and, many believe, to take from the season's popular mantra, change is now needed.
It remains to be seen how far the new board will go to reel in Brown, if it does anything at all. But it appears the board is ready to do something, because just last week, Farr and 2nd District Supervisor Janet Wolf asked for a hearing on February 17 to evaluate Brown, reopen the ordinance that gave Brown executive powers, and consider a return to the way it was.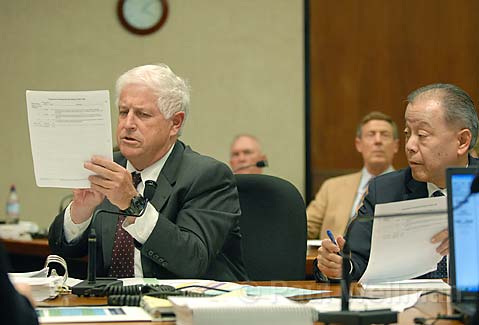 By Paul Wellman