Knowing is half the battle for the California Department of Boating and Waterways (DBW) as it continues to wage war with quagga and zebra mussel species. On June 16 at the Chase Palm Park Center, the agency will host the latest in a series of educational seminars that have occurred throughout the state during the last year to educate boaters about their role in combating aquatic invasive species. These mussels, as well as other invasive species, pose serious environmental and economic threats. The Department of Fish and Game (DFG) will be there to teach boaters how to effectively inspect their boats, recognize the mussel species, and prevent them from spreading.
The quagga and zebra mussels came from Europe in the 1980s and were first discovered in California in 2007, in the waters of Lake Havasu. Although they are typically the size of a fingernail, they can release more than 40,000 eggs in one reproductive cycle and tend to grow on hard surfaces like boat hulls, propellers, and underwater pipes.
They are labeled an invasive species for their abilities to aggressively take over habitats, alter the chemistry of the water, displace native species, and even transmit diseases that can be dangerous to humans. They are known to clog aqueducts and water delivery systems that can cost billions of dollars to repair. By clinging to boat propellers and hulls, the mussels increase the boat's fuel consumption, which is harmful to both the economy and the environment. Marinas and boaters must also spend additional money to clean the boats and protect the infrastructures of the marinas.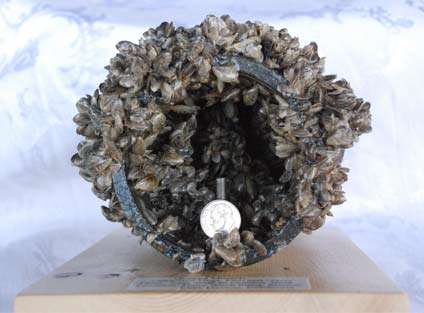 Alexia Retallack