During its first two weeks of business in January, Dos Carlitos Restaurant & Tequila Bar's list of patrons was like a who's who of the Santa Ynez Valley, including Lance Armstrong, who was training in town for the Amgen Tour of California. The restaurant was filled to capacity every night with lines out the door, which came as a surprise to 29-year-old owner, Carlos L³pez-Hollis.
"When you open a business, you intend for certain results, but at the same time you never know," he explained. "But the response has been surprising, almost celebratory. During the first two days, it was almost comical. The servers and managers were hearing, nonstop, 'Hello! Welcome to Santa Ynez. We're so excited you're here,' from everyone who walked in. Was there a town hall meeting where they encouraged everyone to be this nice?"
Part of the explanation of why Santa Ynez residents are so excited is that there hasn't been a high-end Mexican restaurant within a 45-minute drive since Federico's in Buellton closed almost 10 years ago. The other reason is tequila.
Dos Carlitos is a refreshing change from the cluster of restaurants designed to look like estate wine cellars (as lovely as those are) with bottles stacked from floor to ceiling. For diehard wine enthusiasts, Dos Carlitos has one slim wine cabinet discreetly placed on the left side of the bar. But a glance at the tiered tequila shelves leaves no doubt as to what this place is about. "I love wines too-don't get me wrong-but I'm more psyched about tequilas," said L³pez-Hollis, and the custom-made copper-topped bar held together with cowboy-styled clavos is the medium over which he hopes to share his excitement. He proudly points to a rich patina already developing on the metal from water marks left by many octagonal margarita glasses, and the occasional round-bottomed wine glass. Not all of the tequila served at Dos Carlitos, however, is destined to be paired with salt and lime.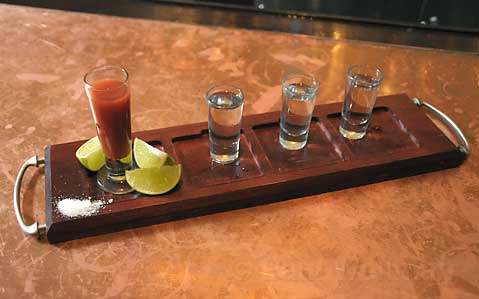 By Paul Wellman