Food & Drink
Not Your College Cuervo
Dos Carlitos Brings Tequila to Wine Country
During its first two weeks of business in January, Dos Carlitos Restaurant & Tequila Bar's list of patrons was like a who's who of the Santa Ynez Valley, including Lance Armstrong, who was training in town for the Amgen Tour of California. The restaurant was filled to capacity every night with lines out the door, which came as a surprise to 29-year-old owner, Carlos L³pez-Hollis.
"When you open a business, you intend for certain results, but at the same time you never know," he explained. "But the response has been surprising, almost celebratory. During the first two days, it was almost comical. The servers and managers were hearing, nonstop, 'Hello! Welcome to Santa Ynez. We're so excited you're here,' from everyone who walked in. Was there a town hall meeting where they encouraged everyone to be this nice?"
Part of the explanation of why Santa Ynez residents are so excited is that there hasn't been a high-end Mexican restaurant within a 45-minute drive since Federico's in Buellton closed almost 10 years ago. The other reason is tequila.
Dos Carlitos is a refreshing change from the cluster of restaurants designed to look like estate wine cellars (as lovely as those are) with bottles stacked from floor to ceiling. For diehard wine enthusiasts, Dos Carlitos has one slim wine cabinet discreetly placed on the left side of the bar. But a glance at the tiered tequila shelves leaves no doubt as to what this place is about. "I love wines too-don't get me wrong-but I'm more psyched about tequilas," said L³pez-Hollis, and the custom-made copper-topped bar held together with cowboy-styled clavos is the medium over which he hopes to share his excitement. He proudly points to a rich patina already developing on the metal from water marks left by many octagonal margarita glasses, and the occasional round-bottomed wine glass. Not all of the tequila served at Dos Carlitos, however, is destined to be paired with salt and lime.
"The complexity of tequila is jarring for people not used to thinking of it that way," he said. "I think they're equally as fascinating as wines and relatively unexplored. Tequila all comes from the same place, the highlands of Jalisco. But the way it's distilled, rested, or aged-you're looking for that, smoothness or harshness, flavoring, fruit elements. Those are the things you toy with when you're tasting it."
Connoisseurs can appreciate the craftsmanship and complexity of a good tequila, which is more similar to cognac than the economy-sized Cuervo bottle common to so many Isla Vista parties. The $25-$75 shots at Dos Carlitos are savored in a snifter. The restaurant boasts more than 50 kinds of tequila, a selection of old favorites and less common small-batch tequilas. Some, like the AsomBroso, have a heady scent of vanilla and caramel; the Gran Patr³n Burdeos is on a par with a fine cognac, something to drink with dessert. For those looking for a surefire hit, Carlos recommends the Don Julio 1942, which packs a vanilla punch for $28. The food lives up to the standards set by the tequila, with delicious entrees like the chicken mole tacos, the halibut ceviche tostada topped with perfectly ripened avocado, and Besito de Cava, a chocolate ganache torte with Patr³n XO sauce.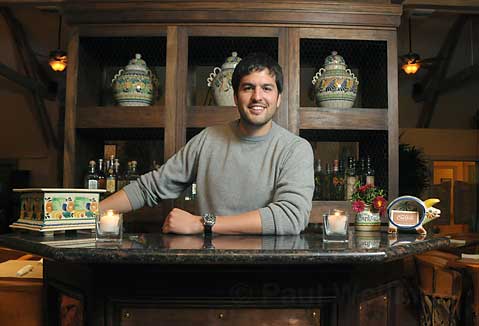 L³pez-Hollis might be a first-time restaurant owner, but his family has been in the business for 30 years, beginning with Carlitos in Santa Barbara, and continuing with Cava in Montecito. "My intention was always to do a hybridized version of the two restaurants, in food, decor, and presentation," he explained. "That said, I want this place to carve out its own identity and fill its own niche." L³pez-Hollis speaks with affection for and nostalgia of the details he has brought over from his parents' restaurants, like the Cholula Hot Sauce bottles and the equipale chairs, handmade and imported from Mexico, just like those at Carlitos.
Artwork by Channing Peake, an artist from the Santa Ynez Valley who studied with Diego Rivera and palled around with Picasso, is prominently displayed at both Cava and Carlitos, along with Gorky Gonz¡lez pottery. L³pez-Hollis created a cozy nook based around the bar and stone fireplace that groups gravitate toward, similar to Cava. But with a horseshoe nailed to the middle of the wood mantle, the feel distinctly is Santa Ynez.
"People come in with their spurs and jeans off the ranch, but you see all ranges of ages and socioeconomic backgrounds," L³pez-Hollis said. "That's when I know the restaurant is hitting its mark. It's not exclusive, and I want it to remain that way. I want people to go to the bar and watch the game and have a drink. I want to see a couple come in dressed to the nines. I want people to come in their boots and sandals and just let loose."
4•1•1
Dos Carlitos Restaurant & Tequila Bar is located at 3544 Sagunto Street in Santa Ynez. Call 688-0033 or see doscarlitosrestaurant.com.