It was during recess at one of Santa Barbara's adorable, sun-spangled elementary schools that Ashley*, a sprightly 6-year-old, approached her first-grade classmate Emma* near the swing sets and delivered the bad news.
"You can't go to heaven."
Ashley had already determined that Emma, the only Jewish girl in her class, did not believe in Jesus.
Emma protested, but Ashley persisted. "If you don't believe in Jesus, you are going to hell."
Their teacher overheard the increasingly heated exchange. When class resumed, she asked everyone to pay attention. People from different religious backgrounds, she explained, have very different perspectives on certain kinds of issues.
Emma, feeling good that she had stood her ground, seemed content with the result. But Ashley was crushed.
"You mean they lied to me right here in school?!" she began to cry. "Because that's what they taught me here!
How can they lie?"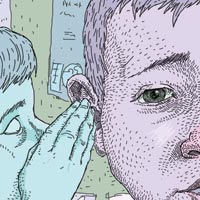 Barry Bruner