A woman discovers she is pregnant. Upon going to the doctor, she makes a second discovery: She is also HIV positive. Many who hear about this situation-which, tragically, is not a hypothetical one in Santa Barbara County-would assume that the unborn child now has a death sentence. But this need not be the case. With proper medical supervision, the child can remain HIV negative. The prevention of mother-to-fetus HIV infection may seem miraculous, but it actually results from strict adherence to a regime of immunity-boosting and antiviral medication.
Ramiro Diaz knows the routine well. In the last year and a half, he and other employees of Pacific Pride Foundation (PPF) have helped six North County mothers save their babies from infection by teaching the women how to take their medication properly, by making appointments with their doctors and driving them there, by constantly checking in on their progress, and, perhaps most importantly, by earning these women's trust.
The most recent pregnant, HIV-positive woman to utilize PPF's services would seem to be a success story. In August, she gave birth to a child who, according to preliminary tests, also appears to be healthy. (Children whose mothers are HIV positive during their pregnancies must be tested periodically until they're 18 months old before doctors can be sure that they do not have the disease.) Diaz, however, can only wish her well at this point, as he is one of the 11 PPF staffers laid off in the wake of a July 28 line-item veto by Governor Arnold Schwarzenegger that eliminated $52 million in state funding for HIV/AIDS prevention, outreach, and testing. The action-preceded by previous cuts-eliminated $600,000, 52 percent of PPF's funding, leaving former and remaining staffers alike to wonder how the organization would be able to muster the personnel to extend the same level of help to current and future clients.
In light of the cuts, some PPFers suggested that the next child born to an infected mother could potentially end up sharing her terminal illness. However, that possibility-which is already smallif preventative medical measures are taken-must be considered alongside the fact that no documented mother-to-child transmissions have occurred in the county during the past 10 years, thanks largely to HIV tests being a compulsory part of prenatal programs, including those offered by the county's Public Health Department. Despite that safeguard, PPF employees working on the frontlines of the fight against this disease worry that every reduction in service means one more crack through which patients could fall.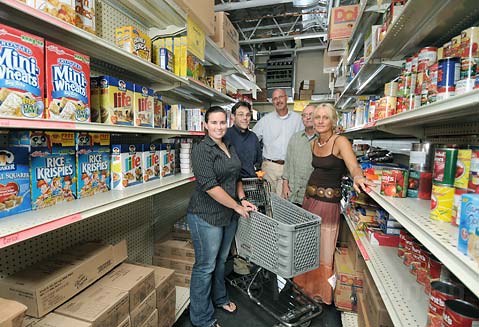 By Paul Wellman