Football coaching is an older man's gig in Santa Barbara these days. But that doesn't mean the coaches are stuck in the older ways. Three situations at recent practice sessions elicited responses that would have been different 30 or 40 years ago.
A player walks gingerly up to a coach and says: "I think I got shin splints. Can I go see the trainer?" The coach: "Okay. Don't worry about practice." Likely answer in the past: "Rub some dirt on it, then get out there and run."
The thermometer approaches triple digits during practice. The coach: "Okay, everybody, take a water break." Likely prescription in the past: "Run the play again. You're going to get it right if it takes all day."
A player approaches a coach with his twin brother and says: "We have to take a calculus assessment test at City College tomorrow at four o'clock." The coach: "Make sure you leave practice early enough so you aren't stressed out. Find a parking space, and ace the test." Likely reaction in the past: "Take the test some other time. There's no excuse for missing practice."
The last thing coaches want to do now is unnecessarily blunt a student's desire to play football. The game is hard enough as it is, and the local schools, drawing from a diminished population compared to Ventura County, are having a difficult time keeping up. St. Bonaventure's state-championship team last year beat up on Santa Barbara High, San Marcos, and Dos Pueblos by a combined score of 157-30. Star-studded Oaks Christian of Westlake Village thrashed Bishop Diego, 61-0, and Carpinteria, 56-0.
Take away those two powerhouses, though, and the hometown teams have a fighting chance. And there are other aspects besides winning and losing that keep the men who played and coached football for years coming back for more.
"It's the greatest game for learning teamwork and strategy," says San Marcos coach Jeff Hesselmeyer. "And there's the relationship you build with the players. You love the game, and you nurture that love in the kids. It's a great experience. That's got a lot to do with my taking the job."
Hesselmeyer is one of three new head football coaches in the area. With 35 years of coaching experience-including two stints as head coach at Dos Pueblos-he was the only teacher on the San Marcos staff qualified to take the job after Dare Holdren resigned at the end of the 2008 season.
Santa Barbara High hired an off-campus head coach, longtime assistant Jaime Melgoza, following the resignation of Will Gonzales.
Holdren and Gonzales are both younger than the men who replaced them. San Marcos athletic director Abe Jahadhmy says it's a sign of the times. "It used to be you coached the team in the fall," he says. "Now you have to do fundraising, and you have to be around all summer. Will Gonzales wanted to spend more time with his children, and Dare wanted to be able to travel." Jahadhmy says the football program at his school has to raise $60,000 each year to stay afloat.
Ben Hallock is the new chief at Carpinteria High. He formerly was a head coach at Bishop Diego, where he started his career in 1979, and at Santa Barbara High, his alma mater. He succeeds John Hazelton, a Carpinteria Middle School teacher who has joined the Bishop coaching staff.
Bishop Diego is the leader in continuity-Tom Crawford has entered his 10th year as the Cardinals' head coach.
Jeff Uyesaka is starting his fifth consecutive season at Dos Pueblos. He had given up the reins after taking the Chargers to the CIF final in 2001, but he came back when his successor did not work out. "When there's a need, you've got to step up," Uyesaka says. "We're in it for the kids."
Here's a preview of the 2009 prep football season:
SANTA BARBARA: The Dons have a glorious tradition, dating back to when they were the only public school in town. If ESPN had existed in their heyday, they would have appeared many times in televised high school games.
Melgoza has tapped into that tradition. He has brought Manuel Robledo, who played on the Dons' CIF championship team in 1960, to the varsity coaching staff. Poncho Renteria, signal-caller on their last CIF titlists in 1989, is the quarterbacks coach. Melgoza himself was a guard and linebacker in 1980, when the Dons went 13-1, losing only in the CIF final to Long Beach Poly.
Randall Cunningham, a future All-Pro, was quarterback of the '80 team, but there were no other big names. This year's team bears some similarity, as its most talented player is quarterback RJ Rosborough, a nephew of Cunningham. A 6'4", 225-pound senior, he left Carpinteria to perform at the school where his father, Raleigh Rosborough, once played. "RJ said, 'I want to be a Don,'" Melgoza says. "That's huge."
Offensive coordinator Doug Caines, another Santa Barbara grad and the only teacher on the coaching staff, wants the Dons to spread the field and give Rosborough several targets. One of them is sure to be Chase Chandler, who scored 56 points last year as a receiver and kicker.
The Dons won the last two city championships-defeating San Marcos and Dos Pueblos-and made it to the CIF playoffs as the Channel League's third-place team, but they graduated some stars in John Uribe (quarterback at SBCC), Roberto Nelson (basketball scholarship to Oregon State), and tight end Bryson Lloyd (walking on at USC).
Melgoza runs a construction business, and he draws a parallel between that and the challenge he faces. "You work through thick and thin," he says. "Whether it's a bad economy or a small football team, you just work harder."
"We're a little short on players, but we have a lot of heart," says lineman Taylor Dawson. "We call ourselves the Dirty Thirty."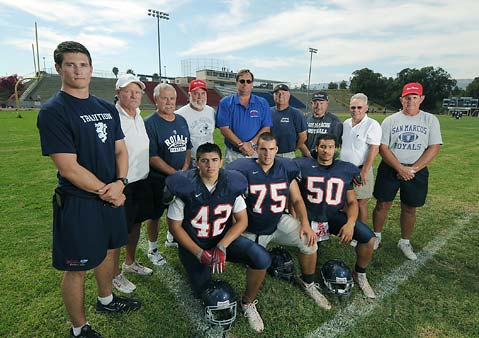 By Paul Wellman