One of the crucial technical disputes in American history, perhaps second only to global warming, is underway. It pits hundreds of government technicians who say the World Trade Center buildings were brought down by airplane impact against hundreds of professional architects and building engineers who insist that the Twin Towers could never have collapsed solely due to the planes and are calling for a new independent investigation. It is a fight that is not going away and is likely to get louder as more building trade professionals sign on to one side or the other.
Better than anyone, David Ray Griffin understands the "enormous importance" of Richard Gage, the Bay Area architect and staunch Republican who founded Architects and Engineers for 9/11 Truth (AE911 Truth).
Griffin, the controversial retired Santa Barbara philosophy professor/theologian (Claremont School of Theology), is regarded as the leading investigative force within what is called the 9/11 Truth movement, with seven 9/11 books to his credit, including his bestseller The New Pearl Harbor. Although sometimes challenged (about accuracy), until Gage appeared, Griffin found his greatest stumbling block in public appearances to be this question: If his analysis was true-that two planes could not have brought down three World Trade Center (WTC) buildings without the aid of pre-planted explosives-why didn't a single U.S. architect or building engineer publicly support him? Now, in three years, Gage has signed up 804 architects and structural engineers, some from top firms, who challenge the official version of the buildings' collapses.
Notably, the FBI's Counterterrorism Division has acknowledged that AE911's core evidence deserves-and will get-FBI scrutiny. In a December 2008 letter, Assistant Director Michael J. Heimbach assessed AE911's presentation as "backed by thorough research and analysis."
Bolstering AE911's case, three scientists working at respected technical laboratories in the U.S. and Europe reported in April that their independent analysis of reputed WTC dust found clear evidence of the highly potent incendiary/explosive "super-thermite," used by the military.
AE911 Truth has grown rapidly, igniting a struggling grassroots movement of hundreds of other "9/11 Truth" organizations, and spearheading a growing assault on the official story. In recent years, other single-profession 9/11 Truth groups have launched or gained momentum, including those comprised of airline pilots, firefighters, veterans, medical professionals, scholars, lawyers, religious leaders, and former government employees.
Also individually calling for a new inquiry are two dozen retired U.S. military officers and eight former U.S. State Department officials, along with a number of Republicans who have served in high federal positions since Ronald Reagan's presidency, including former assistant secretary of the Treasury Paul Craig Roberts and former deputy assistant secretary of Defense (and retired Marine Corps colonel) Ronald D. Ray.
That Van Jones, Obama's green jobs "czar," resigned September 5 in part because he had signed a 2004 petition seeking a new inquiry into 9/11 is testimony to the fact that the reinvestigation movement has brought in skeptics from both political parties even as it remains a hot potato in American public life.
Activists around the country attribute AE911's professional credibility and its unwavering focus on the WTC as the fuel that has galvanized the movement. The group's case has been enhanced by its refusal to advance conspiracy theories that are widespread within the movement, including the proposition that key Bush administration figures likely were complicit in the event.
"AE911 represents the biggest boost yet to the credibility of the 9/11 Truth movement," Griffin said. "So many people identify 9/11 with the towers, and now it's clear there are far more architects and engineers who have spoken out against the official story than have publicly supported it."
The Basic Case
Specifically, AE911 Truth makes these arguments:
• Crucial elements of the key government study on the step-by-step events that occurred in the collapse of the WTC buildings don't stand up to analytical scrutiny. The study was undertaken by the National Institute of Standards and Technology (NIST), the U.S. Department of Commerce agency responsible for building and other safety codes and standards.
• Airplane crash and subsequent fire aren't sufficient cause to bring down the towers, not even when combined with the presumed dislodgment of fireproofing that protected the core steel beams in the areas where the planes struck. This dislodgment, NIST firmly asserts, made the steel vulnerable to softening by fire and induced the collapse-the first ever of a steel-framed building hit by fire.
• NIST never tested for explosive residues despite indications, including many eyewitness accounts from first-responders and people who escaped the buildings, that explosives and incendiaries were present. Strikingly, eight years after the event, NIST still argues "there is no hard evidence to warrant such testing" and refuses to order fairly inexpensive tests, doing so even in the face of the 2008 independent study that claimed to find traces in reputed WTC debris of the military incendiary thermite, which cuts through steel. This controversial study has been reinforced by the results published in April in the Open Chemical Physics Journal. Many technical professionals call the failure to test a science research "travesty."
• The collapse of the three buildings resembles two different types of controlled demolitions and not the bending or toppling of a heated building section that might result from a fire.
In support of these arguments, NIST's critics cite a large number of highly technical papers, most posted on the Web, that specifically challenge or recalculate scores of elements of the NIST case. (See chart online.) Meanwhile, NIST supporters have posted technical papers on various Web sites seeking to "debunk" NIST challengers, including accusations of "false statements" and manipulation of evidence by AE911 and Gage (see wtc7lies.googlepages.com and AE911truth.org/info). For laypersons, the takeaway is that a profound technical argument is underway, with the technical papers sitting alongside often vituperative blogging on both sides of the WTC dispute.
Following the collapses, NIST assembled a panel of more than 300 staff and external experts and spent three years and $20 million on what it calls the most exhaustive technical study ever of a building collapse. Released in 2005, the initial NIST report concluded that the towers, which NIST agrees could not be brought down by fire alone, collapsed because of a combination of factors. Crucially, this included the presumed fireproofing dislodgment. This allowed certain beams and trusses to soften sufficiently to force an inward bending of perimeter-supporting steel beams, putting so much pressure on the fire-weakened and severed center steel columns (three severed in one tower and five in another, out of 47 in each) that the buildings collapsed in the areas where the planes had struck.
NIST also stated that there was more than enough mass plus acceleration of the upper Twin Towers' floors as they fell to force a collapse of the lower structure straight down at nearly freefall speed, with each floor adding weight and force to the pressures on the floors below-a theory NIST says is supported by elaborate computer models.
NIST's report on the third collapsed building, WTC7, released in August 2008, argues that computer modeling of existing evidence also doesn't support an explosives theory. The report concludes that WTC7 was brought down by seven hours of fires combined with falling debris from the towers that weakened an entire building section, forcing the collapse of a key support column such that the building then caved in.
Aside from an article in a 2006 issue of Popular Mechanics, which debunked critiques of NIST and the explosives theory, there has been no in-depth examination in the press of both sides of this argument even after AE911 Truth began to organize and present evidence challenging the official narrative and Popular Mechanics' defense of it.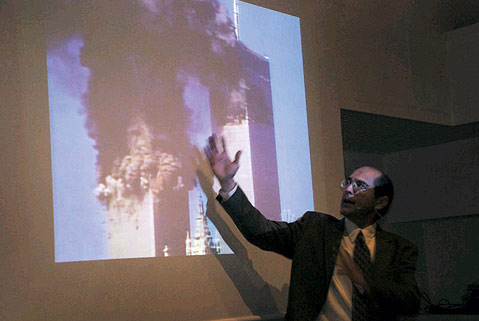 courtesy ae 911 truth