Oh! There's a condor flying!" shouts Michael Woodbridge, of the U.S. Fish and Wildlife Service. We've been sitting on a poison oak-covered cliff in the Hopper Mountain National Wildlife Refuge for nearly an hour, focused on the rocky cave that hides a California condor nest across the canyon. "That's the dad. He's coming to check us out."
Seconds later, the massive black bird does just that, rotating his golden-orange face on a fluffy collar of neck feathers to peer our way. With a stark white underbelly and unmistakable glider-like flying style, I realize-despite some false alarms in my years of exploring Los Padres National Forest-this is my first time ever seeing a California condor on the wing in the wild. When the mother bird suddenly emerges from the nest to join her partner in flight, soaring together in a graceful waltz across a dance floor of thermals, I finally start to comprehend the magnetic attraction of this severely endangered scavenger, how its nine-foot wingspan inspired so many Chumash legends, and why so many millions of dollars and countless hours have been spent to save it.
The breathtaking aerial display, however, only momentarily makes me forget the tremendous challenges that condors still face more than 30 years after the campaign to rescue them from near-extinction was launched. Even though the species-which bottomed out at 22 total birds in 1987-has rebounded to more than 360 birds today, the popular mindset remains divided on the revival's true trajectory. Depending on one's point of view, the California condor recovery program exists as either one of the brightest imaginable triumphs of an endangered species over all-but-certain extinction or the most misguided and expensive boondoggle in American history, requiring more than $5 million-or roughly $13,000 per bird-in annual costs. Condor optimists contend progress is steady and certain, but critics say the bird is just one of many species that's outlived its time on this Earth, unable to adapt to modern development and unlikely to ever survive without human intervention.
For years, I found myself somewhere in the middle of that spectrum. The naturalist in me wanted to believe the program had the potential to return the iconic condor to the Golden State's skies, but my inner realist constantly was discouraged by repeated reports of yet another dead bird. I was reluctant to pursue this article and afraid a deeper look would confirm my worst suspicions: that the human hand would forever be part of the condor's future, its existence no longer possible without technology and constant care.
But after spending time with experts in condor country and listening to all sides about the ups and downs of the program, I'm happy to report that today, there is more hope for California condor recovery than ever before. More wild-born chicks are fledging, fewer birds are dying from lead poisoning, and young birds are learning from old birds where to forage for dead flesh, making the human-provided food increasingly supplemental. As the experts begin to better understand the curious ways of the condor and rethink past assumptions, the goal of three distinct populations-one captive, one wild in California, and one wild in Arizona, each with 150 birds and at least 15 breeding pairs-actually seems attainable. But the condor is not yet in the clear: lead poisoning persists, why parents feed their chicks microtrash remains a mystery, and it is unknown whether the remaining wildlands can produce sufficient carrion. On top of that, the politics of protection, which continue to alienate factions of the hunting community, have not led to the best long-term legislation. But for the first time in decades, almost everyone seems optimistic.
"We've certainly come a long way since the last wild bird was taken in," said Jan Hamber, who's been working with condors since January 1976 and helped trap that final bird on Easter Sunday of 1987. "All the problems for the condors are human-related. : So, ultimately, it rests on us. The birds themselves seem to do just fine." Though it's been an occasionally rough 34 years, Hamber, who runs the world's most comprehensive condor database at the S.B. Museum of Natural History, said last month, "I hope that we will allow them to survive."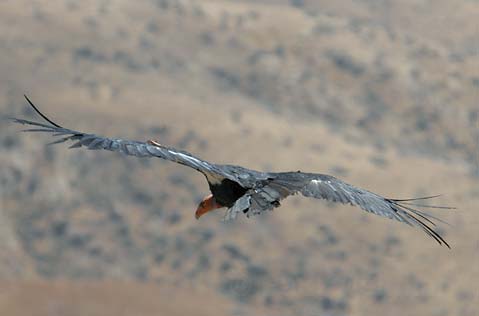 By Paul Wellman