A fire burns in the hearth at Chris Potter's house, while outside, rain slashes past the windowpanes and bounces off the wooden deck. Inside, the little house is filled with the happy clutter of family life: A teddy bear in a pinafore nestles against mismatched throw pillows on the sofa, a box of children's books is wedged beside the dining room table, there's a tumble of tiny shoes tucked behind the front door. Oil paintings dot the walls, crowd the shelves, and stand in leaning stacks wherever there's space. Most depict familiar Santa Barbara landscapes and cityscapes: the mission, the courthouse, Mesa Lane, the wharf—by day and by night, in sunshine and in rain.
Potter, 35, is a Goleta native, a married man and father of two, and, until a few weeks ago, a brokerage specialist with Charles Schwab, where he had worked for more than four years. This January, Potter made a major New Year's resolution to quit his job and turn his attention to the work he loves: painting.
It's the kind of leap many dream about and few take, but Potter exudes quiet confidence as he speaks about the transition. He's been preparing for this for years, he has a plan, and, so far, it seems to be working. He's calling his project Postcards from Santa Barbara, and his objective is simple: to produce one painting a day, five days a week, for 52 weeks.
"I saw other students creating beautiful work that was way beyond me," he remembered, "and in my naïveté, I told myself, 'Okay, if I paint a little bit every day, I will get better.'"
Sitting by the fire with a cup of coffee clasped in his hands, the easygoing Potter explained how he fell in love with painting as an undergraduate at UCSB, and switched from studying psychology to pursuing a degree in studio art. "I saw other students creating beautiful work that was way beyond me," he remembered, "and in my naïveté, I told myself, 'Okay, if I paint a little bit every day, I will get better.'" He carried that philosophy beyond his college years, setting up his easel outdoors on his breaks from work and painting while wearing a suit and tie. Passersby would stop to chat, often commenting on their own lack of talent or the lack of time to pursue their hobbies. "Hey, this is my lunch break," Potter remembered telling them. "If you really love it, you have time."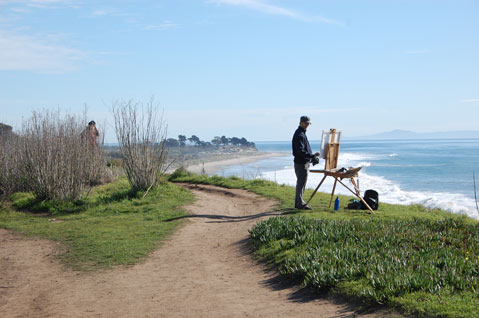 Juli Agnew