Senator Barbara Boxer alighted in Santa Barbara Tuesday, promoting her reelection platform of "jobs, jobs, jobs" and reviling her Republican opponent as a greedy failed executive out of step with Californians on issues ranging from abortion to assault weapons.
On a two-day barnstorming tour of the state, Boxer flew in by private jet for about 90 minutes, attending a fundraising rally for the local Democratic Party in Hope Ranch. As she did at earlier stops in San Francisco, Los Angeles, and San Diego, the incumbent Democrat trumpeted her support of the $869-billion federal stimulus bill, saying the measure created or saved several hundred thousand jobs in the state that would have been lost had GOP rival Carly Fiorina been in the Senate.
In an interview en route to the event, Boxer portrayed Fiorina as an extreme right-winger whose views and values mirror those of former Alaska governor and vice presidential candidate Sarah Palin, who has enthusiastically endorsed the Republican Senate candidate.
"I do think she is out of the mainstream," Boxer said of Fiorina. "I'm glad Sarah Palin made that endorsement. The endorsement speaks volumes about where [Fiorina] is on choice, guns, jobs," and other issues.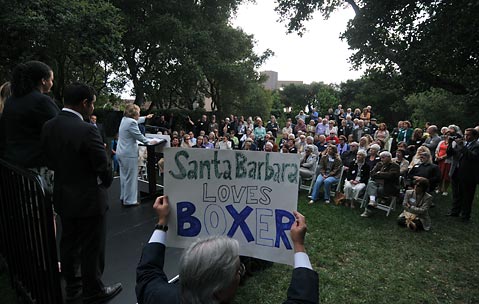 By Paul Wellman