News
Boxer Swings Through Town
Pushes Job Creation Platform; Blasts Opponent Carly Fiorina
Senator Barbara Boxer alighted in Santa Barbara Tuesday, promoting her reelection platform of "jobs, jobs, jobs" and reviling her Republican opponent as a greedy failed executive out of step with Californians on issues ranging from abortion to assault weapons.
On a two-day barnstorming tour of the state, Boxer flew in by private jet for about 90 minutes, attending a fundraising rally for the local Democratic Party in Hope Ranch. As she did at earlier stops in San Francisco, Los Angeles, and San Diego, the incumbent Democrat trumpeted her support of the $869-billion federal stimulus bill, saying the measure created or saved several hundred thousand jobs in the state that would have been lost had GOP rival Carly Fiorina been in the Senate.
In an interview en route to the event, Boxer portrayed Fiorina as an extreme right-winger whose views and values mirror those of former Alaska governor and vice presidential candidate Sarah Palin, who has enthusiastically endorsed the Republican Senate candidate.
"I do think she is out of the mainstream," Boxer said of Fiorina. "I'm glad Sarah Palin made that endorsement. The endorsement speaks volumes about where [Fiorina] is on choice, guns, jobs," and other issues.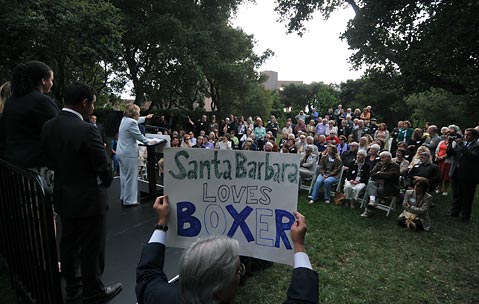 More than 100 people paid $25 each to hear Boxer speak outdoors at the home of Gail and David Teton-Landis. Among those attending were Rep. Lois Capps, who introduced the Senator, Assemblymember Pedro Nava, city council members Grant House and Das Williams, Goleta councilmember Roger Aceves, former supervisor Susan Rose, and county Democratic chair Daraka Larimore-Hall, who called Boxer's reelection "crucial for the environment, crucial for education, [and] crucial for job creation."
With unemployment more than 12 percent in California, and the state mired in the worst recession since the Great Depression, the 69-year-old Boxer said the economy would be even worse off without the stimulus bill, which Fiorina has derided as a costly, failed boondoggle. Boxer told the crowd that Fiorina embraces the "same failed economic policies" of the Bush era, including tax cuts for the wealthy and lax regulation of the financial services industry.
By contrast, Boxer said, she backs policies to develop the green energy industry, increase government spending on transportation, and place sanctions against companies that export jobs. On that point, she assailed her opponent's tenure as CEO of Hewlett-Packard, noting that HP lost some 30,000 jobs during that period, while Fiorina left with a $23-million golden parachute when she was fired.
"We've had enough of the greed of Wall Street," the Senator said, charging that Fiorina "sent 30,000 jobs to China and made a fortune for herself … broke the hearts of a lot of loyal workers and almost broke the back of one of America's greatest companies."
In drawing contrasts with Fiorina, Boxer underscored the very clear choice that voters will have in the November 2 election for Senator. Among the key issues on which the two differ:
Abortion: Boxer is a fierce advocate for abortion rights, while the pro-life Fiorina has said she would support overturning the landmark Roe v. Wade decision.
Offshore: Boxer strongly opposes any new offshore drilling for oil in California and led the fight for an extended federal moratorium off the state's coast. Fiorina supports expanded offshore drilling in California and elsewhere in the name of U.S. energy independence.
Immigration: Boxer opposes Arizona's controversial legislation cracking down on illegal immigrants and backs a "comprehensive" reform proposal that includes a path to citizenship for those in the country illegally. Fiorina supports the Arizona law and opposes what she calls "amnesty" for illegal immigrants.
Gun Control: The incumbent supports California's ban on assault weapons; Fiorina opposes it and almost any restrictions on the right to bear arms, including restrictions against buying guns imposed on those on federal terrorism watch lists.
Climate Change: Boxer opposes the proposed repeal of California's landmark AB32 greenhouse gas emission law; Fiorina supports it and mocks her rival's support for sweeping climate change legislation.
"I'm a fighter; I've always been a fighter," Boxer told the Santa Barbara rally. "This race is about who's on your side … the people will decide who's on their side."