When it comes to jazz, people have their opinions. It won't come as a surprise to KCSB listeners that the hosts of the jazz shows throughout its history have had even stronger ones. A flip through program schedules of the past reveals that most shows falling under the "jazz" category have operated under fairly particular, even idiosyncratic definitions of the genre.
Some jazz-minded KCSBers seem to have believed that real jazz existed only before a certain year; others that it existed only after a certain year; others still that it existed only within a vanishingly narrow era between one year and another. Some have thought that it isn't real jazz unless it's as melodic as possible; some have thought that it isn't real jazz unless it's as amelodic as possible. Some have claimed that real jazz is, in fact, spelled "jass." These conflicts roil on today, their solutions nowhere in sight.
Take a look at the relevant wall of KCSB's music library, and you'll find the raw materials of any sub-sub-variety of jazz show that's been done on the station and an infinitude of possible jazz shows of the future besides. Pulling out a few vinyl albums, holding them up beside one another and wondering what they could possibly have in common, I knew my next column on the station's music library had to be an examination of its jazz collection. Back in April, when I sought out an international range of records, we saw reason to suspect that one could craft at least a respectable quarter's worth of programs on Japanese jazz, if one were so inclined.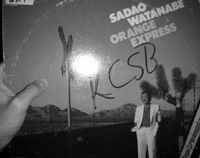 By Courtesy Photo