Not all community colleges are created equal. For some, these state-funded bastions of higher learning are little more than a refuge of last resort. For others, they offer an affordable path to a better life in a place called home. Luckily for us, here in Santa Barbara we have one of California's glowing examples of a community college done right. Perched perfectly above the Pacific Ocean, Santa Barbara City College (SBCC) teaches more than 16,000 undergraduate students a year, many of whom have come here from around the country and the world to study on the Mesa campus. Just as important to the educational life of Santa Barbara, however, are the 35,000 or more residents of the South Coast who enroll in arguably the most robust continuing education program in the state. It is this program, with campuses in Santa Barbara and Goleta, that most directly and enduringly connects the college to our community.
Be it a language class for a hopeful learner, a carpentry class for a laid-off 40-year-old computer tech searching for a new career, or a swim class that provides an arthritic retiree with physical therapy, there isn't a portion of our population here on the South Coast that isn't served by what is commonly called "Adult Ed." As Santa Barbara City Councilmember Grant House, who also serves as the city's representative on the Continuing Education Citizens' Advisory Council, put it recently, "You cannot overestimate the importance of Adult Education in Santa Barbara. It is part of our economic vitality, it is part of our social equity, and it is part and parcel of who we are and who we want to be as the Santa Barbara community."
But all is not well in the house that Selmer "Sam" Wake built. In the two years since the longtime SBCC administrator and firebrand forefather of our continuing education program passed away, California has fallen famously upon economic hardship — a twist of fiscal fate that has wreaked havoc upon virtually every nook and cranny of public education. For Continuing Education at SBCC, the budget blues playing out in Sacramento have equaled class cuts, fees charged for historically free classes, and the cancellation of practically the entire summer semester. But for many, the greatest damage to Adult Ed, even beyond the bitter pill of cuts and fee hikes, is that the once sacred trust between the college and the community lies broken on the rocks of miscommunication. The reasons are many: an administration headed by relative newcomers to the school, an overly confident board of trustees, and a constituency that considers itself, with some merit, the heart, soul, and breath of Santa Barbara. Disillusioned and fearful that SBCC's leaders are purposely tone-deaf to their pleas, an impressive, growing alliance of students, instructors, and a few former administrators have been crying foul to such a degree that even Board of Trustees President Joe W. Dobbs, who has served on the board for the better part of five decades, called the chorus of public concern "the most critical I have ever seen." And now, even as signs of reconciliation appear to be rising from the wreckage, the gloom of a relationship ruined remains.
When retired SBCC administrator and former Continuing Education vice president Lynda Fairly told the board of trustees late last month that their handling of the recent controversy has her rethinking her longstanding intention to leave the school more than $1 million in her will, she put her finger on the essence of the problem: "Our problem today comes down to shared governance — we don't have it."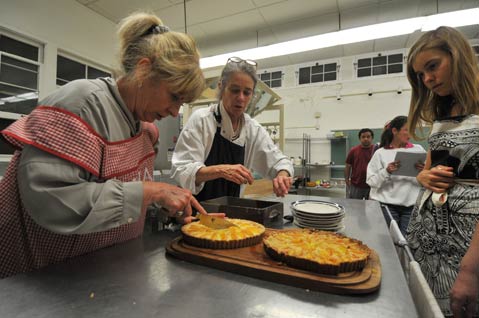 By Paul Wellman