The ongoing race for District Attorney is the most contentious campaign for Santa Barbara County's top prosecutor position in decades. Any race that pits one experienced and passionate courtroom pugilist against another is bound to be aggressive and fierce, but in this case, emotions are hotter and more sensitive than ever, as the circumstances leading up to the June 8 vote involve the untimely illness and recent death at age 61 of District Attorney Christie Stanley.
The hand-picked successor of Thomas Sneddon — who retired as DA after 24 years of stable leadership — Stanley won a staggering 69 percent of the primary vote against two other candidates in 2006. But, early in her term, she was diagnosed with lung cancer, eventually became unable to effectively serve, and finally resigned this past January. She died on April 25, and hundreds came to pay their respects at her funeral last weekend.
The proud, tightly knit department struggled during Stanley's long illness to find the right way to handle the difficult situation. Strong disagreements eventually emerged, and the two people running to take her place — Joyce Dudley, a 20-year veteran known for convicting sexual criminals and abusers, and Joshua Lynn, the office's chief trial deputy who recently took down Jesse James Hollywood — represent the office's opposing reactions.
On paper, it might be hard for any voter to delineate between the two candidates. Both are longtime Santa Barbarans: Dudley, 57, moved here 37 years ago; Lynn, 40, was born and raised in Santa Barbara. Both are career prosecutors who've been in the office for more than a decade (Dudley since 1990, Lynn since 1995). Both have won the Guerry Award, the county's top law enforcement prize. Both have prosecuted everything from minor misdemeanors to complicated murder cases. Both teach at the Santa Barbara College of Law. Both say they have what it takes to bring back departmental morale while tackling the budget and improving relations with the public. Heck, both of their first names start with J.
But when Stanley's illness began to seriously affect the department on a day-to-day basis, Dudley and Lynn took dramatically different approaches. Dudley saw an office lacking in leadership and compared it to a racehorse with no jockey: "It does well for a while, but eventually runs off course." Those who shared that assessment encouraged Dudley to run. Last summer, she informed Stanley, who was still intending to run for reelection at the time, and then Dudley announced her candidacy at a September 1 press conference in front of the courthouse, marking the first time ever that an incumbent District Attorney in Santa Barbara County would faced a challenge from within the office.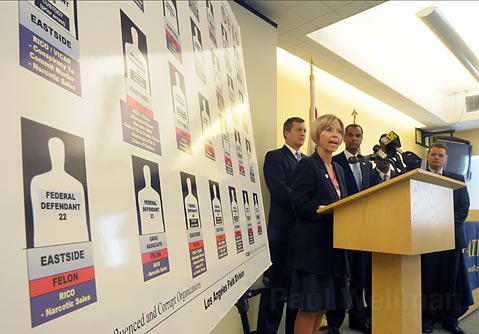 By Paul Wellman (file)