A little more than a year ago, I set out on a hike through Rattlesnake Canyon in the front country. An avid hiker myself, I knew this trail well and had packed a backpack with my regular hiking items: water, food, extra layers, basic first aid, and a phone.
Instead of hiking out to the typical destination of Rattlesnake's "Tin Can Meadow," I instead followed the creek to a wall of rocks, which I climbed. I then followed a trail to the creek's right, until it dead-ended at another wall of rocks. I bouldered those, as well, but at the top was quickly dismayed to find myself now without a trail. Opting against the danger of descending down two pairs of treacherous and now shadowy rock walls, I climbed to a plateau, which I had hoped would connect with one of Rattlesnake's many side trails. It didn't.
I held onto burnt manzanitas in loose dirt and climbed through ground-dwelling bees as I slowly made my way through a steep canyon to a higher plateau, where I had hoped at least to survey the land and find visual access back to where I needed to be. Instead, I found myself officially stranded, but at least in a high location where I knew I could be spotted.
Knowing I had only a couple of daylight hours left and that I would surely make a bad situation worse if I attempted to descend back to the Rattlesnake Trail, I called the Santa Barbara County Sheriff's Office. They connected me with Santa Barbara County Search & Rescue (SBCSAR) member Linda Phillips, who took my information and relayed it to Incident Commander Stephen Allcott. Allcott worked with me to pinpoint my exact location, and SBCSAR members Jim Frank, Mike LoMonoco, and Kevin Hess were the first to gain visual access to me from the mountain's Edison Road. They worked with the Santa Barbara County Fire Department — already in the area to assist with injured hikers on nearby Tunnel Trail — to get me safely back to my car at the trailhead. My embarrassment reached unmatched levels when, back at my car, I counted 12 SBCSAR members waiting to ensure my safe return.
Red face aside, I was so impressed with SBCSAR's organization, friendliness, and ability and enthusiasm to work with other agencies on my rescue. I was equally impressed that these are all people with full-time careers who were giving up their Sunday to help lost and injured hikers. Inspired, I thought: "I hike every day; why not hike with a purpose?" So after much contemplation and nudging from personal friend Eric Gray of County Fire (who, oddly enough, was the one who ultimately plucked me off the Rattlesnake plateau), I decided to join the all-volunteer Search & Rescue.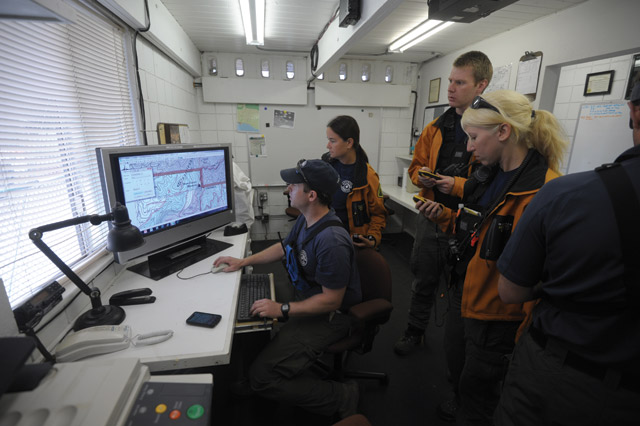 By Paul Wellman