Outdoors
Lost, Found, Enlisted
City Girl-Turned-Search & Rescue Volunteer Recalls Incident that Inspired Involvement
A little more than a year ago, I set out on a hike through Rattlesnake Canyon in the front country. An avid hiker myself, I knew this trail well and had packed a backpack with my regular hiking items: water, food, extra layers, basic first aid, and a phone.
Instead of hiking out to the typical destination of Rattlesnake's "Tin Can Meadow," I instead followed the creek to a wall of rocks, which I climbed. I then followed a trail to the creek's right, until it dead-ended at another wall of rocks. I bouldered those, as well, but at the top was quickly dismayed to find myself now without a trail. Opting against the danger of descending down two pairs of treacherous and now shadowy rock walls, I climbed to a plateau, which I had hoped would connect with one of Rattlesnake's many side trails. It didn't.
I held onto burnt manzanitas in loose dirt and climbed through ground-dwelling bees as I slowly made my way through a steep canyon to a higher plateau, where I had hoped at least to survey the land and find visual access back to where I needed to be. Instead, I found myself officially stranded, but at least in a high location where I knew I could be spotted.
Knowing I had only a couple of daylight hours left and that I would surely make a bad situation worse if I attempted to descend back to the Rattlesnake Trail, I called the Santa Barbara County Sheriff's Office. They connected me with Santa Barbara County Search & Rescue (SBCSAR) member Linda Phillips, who took my information and relayed it to Incident Commander Stephen Allcott. Allcott worked with me to pinpoint my exact location, and SBCSAR members Jim Frank, Mike LoMonoco, and Kevin Hess were the first to gain visual access to me from the mountain's Edison Road. They worked with the Santa Barbara County Fire Department — already in the area to assist with injured hikers on nearby Tunnel Trail — to get me safely back to my car at the trailhead. My embarrassment reached unmatched levels when, back at my car, I counted 12 SBCSAR members waiting to ensure my safe return.
Red face aside, I was so impressed with SBCSAR's organization, friendliness, and ability and enthusiasm to work with other agencies on my rescue. I was equally impressed that these are all people with full-time careers who were giving up their Sunday to help lost and injured hikers. Inspired, I thought: "I hike every day; why not hike with a purpose?" So after much contemplation and nudging from personal friend Eric Gray of County Fire (who, oddly enough, was the one who ultimately plucked me off the Rattlesnake plateau), I decided to join the all-volunteer Search & Rescue.
Off to Academy
After completing an exhaustive application, a grueling background check, and references from everyone from family to neighbors I'd never even met, I was in the SBCSAR Academy. Recruitment Chief Dave Romero advised each of us that the team would be quite time-consuming, and I quickly learned he wasn't kidding. Most full Saturdays and Wednesday nights were dedicated to the academy to learn and review new skills and procedures. (Being a freelance writer, I found it actually was alright for my schedule.) The five-month academy was a rigorous one, with only about half of us making it to graduation in June.
Born and raised a city girl (but a Santa Barbarian since 2005), working with rope was out of my element. I watched during the first month as my fake French manicure was replaced by blisters and bloody nail beds. The following months transformed me from a borderline prima donna to a hardcore adrenaline junkie and certifiable tomboy.
We learned to build sophisticated rope systems to raise and lower persons and gear —or, in the more practical sense, to lower fellow SBCSAR members over the sides of cliffs to access and rescue lost or injured persons or even recover the occasional deceased subject. We learned how to find missing at-risk, elderly, and Alzheimer's patients. We even learned to find Emergency Locator Transmitters, better known as an airplane's little black box. If you live near the Search & Rescue Station in Noleta, then you may have seen my academy and me wandering around the neighborhood with odd-looking equipment resembling 16th-century torture devices, but it is this equipment that will lead us directly to the exact location to recover that black box.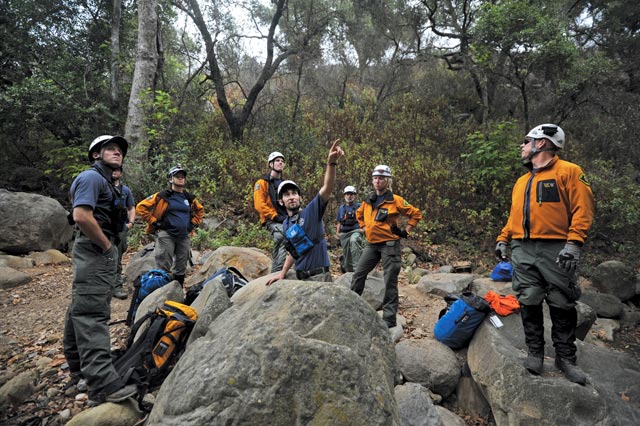 Our weekend (and sometimes overnight) trainings have included off-road vehicle driving (using quads and Polaris RZRs to access victims on trails inaccessible by other vehicles or aircraft) and swiftwater rescue in the Santa Ynez and Kern rivers. But they have also included crawling on hands and knees in 95-degree weather during tracking training and being thrown, blindfolded, into a pool while trapped in a secure cage, during Helicopter Emergency Egress Device (HEED) training.
Our academy final took place at Red Rock on Sunday, June 5. The rain didn't dampen our spirits. We tested in rope systems, anchors, knots, navigation, stretcher rigging, patient packaging, sign cutting, and rappel. That night, as my academy and I celebrated at Harry's Plaza Café, SBCSAR President Jennifer Beyer called each of us, one by one, to notify us if we had passed. I had. The only thing left was to get approval for my gear — which each new SBCSAR member spends approximately $2,000 of their own money on — and then I received my uniform, locker, and pager. I was officially a responding member of Search & Rescue.
Into the Field
My first call was the following day. Four hikers on Tunnel Trail had become lost en route to Mission Falls. About a dozen SBCSAR members responded. Carrying water, food, extra clothing for the subjects, radios, whistles, maps, GPS devices, helmets, gloves, harnesses, hardware, first aid, and rope kits, we accessed the hikers through dense poison oak and a series of treacherous boulders requiring rope systems to descend. All four hikers were checked and cleared by our paramedic, Matt Powers, and sent on their way. Since then, I've been on calls for a stranded motorcyclist at Divide Peak, stranded hikers in a cove off of Ellwood, and, of course, the famously overdue hiker at the Romero Saddle.
Santa Barbara County is the perfect home for anyone who loves the outdoors, but what I've learned in the past year is that it's important to remember that even the most experienced hiker can get into trouble. Therefore, novice hikers should take particular cautions: Just because you plan on being out for only a 90-minute roundtrip hike to Inspiration Point, for example, doesn't mean you can't get lost, disoriented, or hurt. Day hikers should always take, at a minimum, plenty of water, food, and extra layers and a phone, map, and GPS device. Multiday hikers should plan accordingly, and know that heat can catch up with you quickly and rain levels can affect rivers and creeks more than you might think. Both should always let friends or family know where they're going. (You'd be surprised how helpful a Facebook check-in can be.)
So if you see a blonde girl with a giant blue backpack on a hike in the front country, that's me. Stop and say hi. But take the necessary precautions so that our hiking encounter is a friendly one, and not a rescue.