"Defendant" means that person whose election or nomination is contested or those persons receiving an equal and highest number of votes, other than the contestant, where, in other than primary elections, the body canvassing the returns declares that no one person has received the highest number of votes for the contested office. —  California Elections Code, Section 16002
And with that, Doreen Farr was on the hook.
Farr won the 3rd District Supervisor seat in the November 4, 2008, election. Strongly endorsed by liberal groups, she canvassed hard, raised $639,472, and won by a respectable 806 votes out of more that 35,000. Since then, no one has ever alleged that Farr stuffed the ballot box, manipulated votes, cheated, lied, or personally did anything else wrong during the election or her candidacy. Nevertheless, since then, she has been on the hook, spending roughly $550,000 to defend the validity of that election. That's how the law is written when there is a disputed election … Some law, some hook.
Losing Is Tough
Her opponent Steve Pappas — an independent from the Santa Ynez Valley — also ran a well-financed (raising $581,963), strong campaign, canvassing vigorously in Isla Vista and UCSB. The student paper, the Daily Nexus, endorsed him in the June primary and again in November. But he lost badly to Farr in all 18 Isla Vista and UCSB precincts. "He felt he should've had more votes and didn't," Farr said recently.
Almost immediately, Pappas focused on what seemed to him quite peculiar: In four precincts in I.V. and UCSB, the voter turnout appeared to be more than 100 percent — one exceeded 130 percent. To an untrained eye, this would look funny.
There was an easy explanation, according to county elections chief Joe Holland, whose county hats include Clerk, Recorder, Assessor, and Registrar of Voters. As he explained many times, including in this paper, the Isla Vista and UCSB population is filled with transient students who move from year to year within the community. When they go to vote, they occasionally show up at the wrong polling places. When they do, they fill out a provisional ballot, which becomes part of the Election Day "turnout." These ballots aren't actually counted as votes until later, after election officials can ensure a person is properly registered, not voting twice, and that everything is aboveboard. Taking a step back, the numbers appear to balance out: Election turnout in those 18 Isla Vista and UCSB precincts was 89.9 percent, while district-wide the turnout was just a bit lower, at 88.7 percent. "It's like old news that you have to explain over and over again," Billie Alvarez, deputy director of elections for the county, said recently.
This explanation, however, wasn't good enough for Pappas. Either he didn't like the answer given to him, or it didn't matter. With his lawyer, he sat down and shuffled through voter cards and registration records, all provided to him by the Registrar of Voters office. Not satisfied, he demanded a recount, a request immediately granted by Holland, who was eager to show the process was transparent and fair. In the end, Pappas gained one vote. Farr remained the winner.
But Pappas was still not satisfied.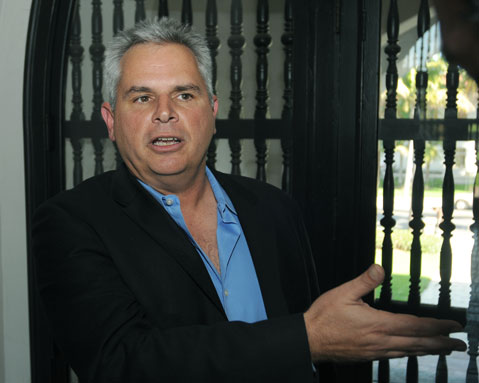 By Paul Wellman (file)