It's as obvious as someone's nickname scrawled in bright-green spray-paint on the side of a white-washed adobe wall: Graffiti in Santa Barbara is at an all-time high. From elaborate displays on freeway overpasses and railroad under-crossings to the hastily sketched monikers on sidewalks and simple "ES" or "WS" gang provocations on each side of town, it's hard to walk down almost any street in Santa Barbara without spotting signs of a tagger's late-night handiwork. And despite combined efforts from the police, city workers, and volunteers all over town, the costly and constant trend only seems to be on the rise.
"It's a nuisance problem," explained Charles Katsapis, an officer with the Santa Barbara Police Department who deals with graffiti on a regular basis. "We live in a beautiful city, and no one likes to see it." And like more traditional nuisances such as litter, dilapidated buildings, and abandoned vehicles, the explosion of graffiti threatens to harm Santa Barbara's profitable reputation as a quaint tourist destination and, most critically to residents, to lower property values.
Confronting the graffiti tide has become a daily race in painting over paint, a back-and-forth, nearly Sisyphean task for the City of Santa Barbara's streets maintenance team, who go out early every morning to clean up as much as they can before the sun rises, only to see their efforts tagged up as soon as the next night. "The amount of cleanup we've done has almost quadrupled," said city Streets Manager Rick Fulmer, who said the graffiti-abatement program costs his department alone about $200,000 annually. "We're tired of being hit all the time with people demanding that the city and police do something about it. We are constantly doing stuff about it."
Tagging Talk
Taggers: Umbrella name for graffiti writers and artists.
Crew: Group of taggers who paint together as a team.
Tags: Quickly scrawled monikers.
Bombing: Putting up as many tags as possible in a given area.
Pieces: Short for "masterpieces"; elaborate and large works.
Throw-Ups: Less elaborate than pieces, more artistic than tags.
Heaven Pieces: Works done in high or hard-to-reach places.
Slaps: Tags on stickers (such as mailing or "Hello, My Name Is" labels).
Toy: Insult left to denote weak artists.
Santa Barbara is not alone, as graffiti — considered to be one of the "four pillars" of the hip-hop movement that began in New York City nearly 35 years ago — is exploding worldwide as an art form and going mainstream, whether the authorities like it or not. Two of the West Coast's most popular art exhibits this summer, Street Cred at the Pasadena Museum of California Art and Art in the Streets at the Museum of Contemporary Art in Los Angeles, were all about graffiti; the documentary Exit Through the Gift Shop, by notorious British street artist Banksy, nearly won the 2011 Academy Award; and major brands such as Coca-Cola, Nike, and Sony have hired "aerosol artists" in recent years for advertising campaigns. Though much of what's seen every day in Santa Barbara doesn't rise to this quality, there are some hidden spots that aren't regularly painted over where the spray paint does shine.
Some communities have chosen to embrace the trend rather than fight it, most notably Venice Beach, where public art walls were erected in 2007 to allow graffiti and have resulted in a drop of illegal tagging nearby. In Santa Barbara, there is only about a block of wall space in the Funk Zone where aerosol art is tolerated (and only then with written permission), leaving plenty of kids with cans of green spray paint eyeing your white-washed adobe walls as their next canvas.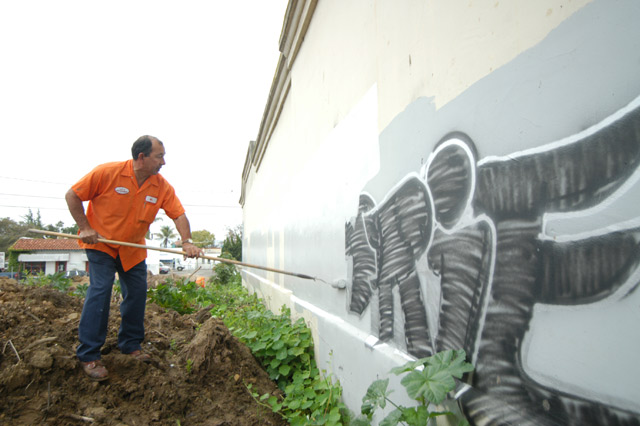 By Paul Wellman (file)