Since 2008, United States law enforcement has tracked 667 incidents of maritime smuggling along California's coastline, a dramatic uptick from years prior due to successful crackdowns on the land border. Most of the ocean encounters involved panga boats, small, fast, stripped-down vessels often laden with marijuana and migrants that Mexican smugglers zip from south-of-the-border ports to Southern California shores.
While 3,007 arrests have been made and more than 121 tons of drugs seized over the last four years, this Sunday marked the first time that a law enforcement agent was killed responding to suspicious panga activity in U.S. waters, a sign that the sea-bound smugglers are becoming more audacious and violent in their tactics.
Chief Petty Officer Terrell Horne III, a veteran of the U.S. Coast Guard and second in command on the patrol cutter Halibut, suffered a fatal head injury when a 30-foot panga lurking in the middle of the night near Santa Cruz Island rammed his boat. From Redondo Beach, Horne was 34 years old and leaves behind a pregnant wife and small child. He was remembered by his fellow sailors as a "friend, a "confidant," and "the glue that held our crew together."
Two men operating the panga were arrested and charged with Horne's death. They await trial in Los Angeles. The investigation into the incident is ongoing, and Santa Cruz Island has been shut down and evacuated of visitors and National Park Service workers as authorities comb the 97-square-mile area for evidence. Tuesday morning, several bales of marijuana were found floating near the scene, but officials didn't say if the discovery is linked to the case. Coast Guard and National Park Service media representatives couldn't confirm or deny reports that two suspects remain at-large on the island.
Though details surrounding the collision were initially vague, a clearer picture of what took place emerged from the criminal complaint filed Monday afternoon in L.A. District Court. Drafted by a Homeland Security special agent, the affidavit is based on interviews with 16 Coast Guard officers, a Border Patrol agent, and the two defendants.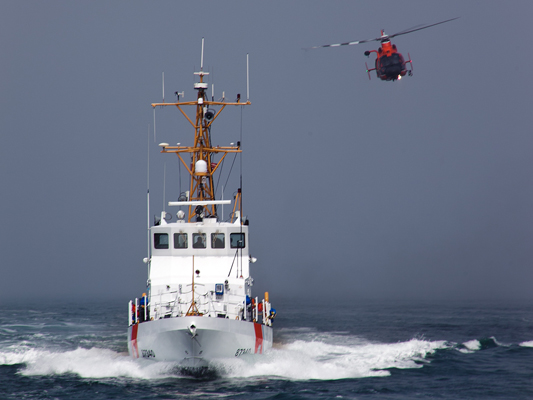 AUX Steve Lee