Andy Paddock was headed down a path, and it wasn't a very straight or narrow one. The Santa Maria teen had been on probation since age 13. He was a junior in high school but only had the credits of a freshman. He fought with his mother, hung out with a rough crowd, was on house arrest, and was addicted to heroin.
It wasn't long before the law caught up with him yet again, this time because he cut off his house-arrest bracelet. But instead of heading back to Juvenile Hall, he ended up at Los Prietos Boys Camp.
For the now–18-year-old Paddock, it was like being transported to another country. It certainly was another culture. Los Prietos operates like a boot camp, with strict curfews, work schedules, and enforced school attendance. About 80 boys live there at any time, ages ranging from 13 to 18, all dressed in the uniform of crisp collared shirts and pressed slacks — blue for the older boys, brown for the younger ones. The whole place is about structure, structure, structure. "My first month there, I was always in trouble," Paddock remembered, "but eventually, I caught on."
The morning I first visited Los Prietos, I went to speak at a job fair the county education office had sponsored. The boys impressed me with the sincere, respectful way they spoke, shaking my hand and addressing me formally. When they walked in the room, they removed their hats, some revealing tattoos on their young faces. But they stood up straight and looked me in the eye. They asked sharp questions about my day-to-day job, how much vacation time I got, and how much I was paid. Interesting behavior, I thought, from a group of supposed criminal bad boys.
It was a few weeks later while covering a South Coast Task Force on Gangs meeting that I became convinced this story needed to be told. A group of Los Prietos teens performed a well-choreographed play called The Drama Kings. In quick staccato and with few props, they told their life stories — how emotional pain and loneliness drove them into gangs, how drugs filled the void left by hunger, how their parents weren't around to make them go to school.
It was a moving, impressive performance. But just as impressive was how the group handled the questions from the Task Force panel and audience members. The boys responded with maturity and respect about their hopes for the future. They sounded just like all boys their age, with a wide range of dreams. One told of how he hoped to head to City College. Another, how he planned to work as a tree trimmer. But they all pressed upon the politicians and community leaders the need for more programs like those offered at Los Prietos.
In the last few years, the County Probation Department, which runs Los Prietos, has suffered some of the most intense budget cuts of any department in the county. In 10 years, it has lost more than 100 positions — 25 percent of its personnel. But the success of the camp has impressed the Board of Supervisors enough to always provide enough funding to keep it alive.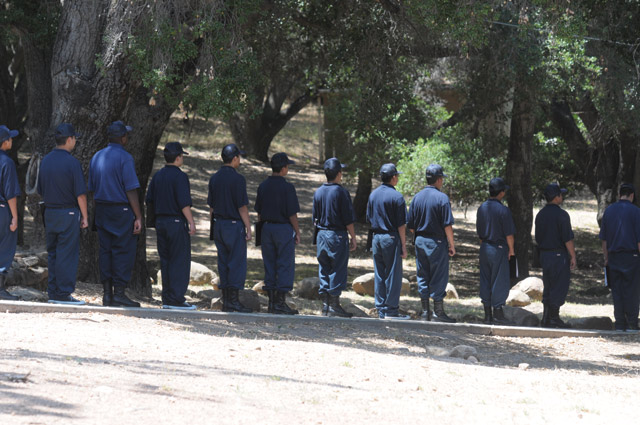 By Paul Wellman