Rick Caruso is a busy guy.
Until his deal fell through last week, Caruso was on the short list of people trying to purchase the Los Angeles Dodgers for something like $1.5 billion. He's considering a run to be mayor of L.A. next year, and even if not, he's known to spend hundreds of thousands — sometimes millions — on others during election season every year. His Americana at Brand and Grove shopping centers are two of the snazziest in Southern California, and he's also gambling on Las Vegas, where he's the exclusive leasing agent for a new $550-million retail, entertainment, and food district being planned by Caesars for the middle of The Strip.
That busy schedule, however, is bringing lots of frustration to Santa Barbara, where people wonder what's taking the well-coiffed, well-dressed, and, well, well-done-everything-else Caruso so long to rebuild the historic Miramar Hotel on the Montecito coast. When the developer — whose personal fortune is estimated to be $850 million — first got involved nearly five years ago, he promised that if he couldn't get a bank to finance the roughly $170 million project, he'd do it himself. "Banks are calling us," Caruso told The Santa Barbara Independent in 2007. "We have a balance sheet that, if it came down to it, we could do it on our own."
But by the time his five-star, 186-room project was approved for the 16-acre South Jameson Lane property a year-and-a-half later in December 2008 — just three months after the now notorious collapse of Lehman Brothers — the world would be in the midst of a recession. Amid foreclosures, bankruptcies, and layoffs, the market for constructing luxury hotels tanked. "It's not an outlier," explained Matt Middlebrook, a senior vice president with Caruso Affiliated, of the Miramar, which has sat vacant and been bumped from hotelier to hotelier since 2000. "It's the norm."
Those once-eager banks are just now starting to call again, and Caruso — despite the lingering intrigue and mistrust that he's endured since the first Montecito Association meeting in 2007 — remains unyielding. When I spoke to him on his cell phone last Friday, the ever-polite Caruso only had a minute to talk, yet he did so matter-of-factly, explaining that he's always intended and still intends to rebuild the Miramar himself.
Caruso's next big idea will be entertained by the County of Santa Barbara's Board of Supervisors on Tuesday, when they'll decide whether to take the next step in a proposal to wave off a decade of potential bed taxes and extend his soon-to-expire building permits forever in exchange for the immediate demolition of the unsightly, dilapidated, and trouble-attracting blue-and-white structures on site. Though most publicly agree that cleaning up the 12-year-old mess is a pretty attractive trade-off, others quietly surmise that the deal's estimated $18 million in tax savings — which amounts to chump change for this near-billionaire — is more likely a way for Caruso to dump his long-struggling property to the next highest bidder.
Caruso flatly denied those allegations during our brief conversation on Friday afternoon. "I have no interest in selling — I've been approached by a lot of people trying to buy, and we've turned them down," he told me. "I have no reason to lie to you. There's no hidden agenda here."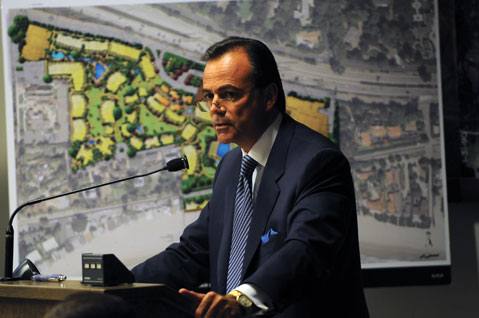 By Paul Wellman