Like many a '90s child, Jane's Addiction had a fair place in my musical upbringing. Due in part to a mom with "the hots" for front dude Perry Farrell, many of their singles were burned into my memory at a very early age. Sentimental value aside, they left an acrid impression on me after their last visit to the Bowl in 2009, when they inexplicably assumed the headlining spot on Nine Inch Nails' farewell tour, and played a mediocre set by comparison. Fortunately, Jane's Addiction returned last weekend with revamped visuals, new songs from The Great Escape Artist, and the decidedly dominant sound of a band that has played together for over 25 years.
Photo Gallery
Jane's Addiction at The Santa Barbara Bowl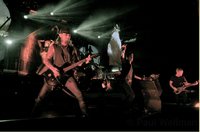 Speaking of new material, the four-piece set the bar high for the evening with brilliant opener "Underground," followed by a medley of older jams like "Mountain Song" and "Been Caught Stealing." Accompanied by vaudeville dancers, stoney visuals, freaky monsters, and their signature twin lady statues, the first part of their set built an impressively full sound to match their psychedelic mise-en-scéne. Eventually, they lightened up the mood with an acoustic throwback to their 1987 debut album ("Jane Says," "Chip Away") before returning to present day with "Splash a Little Water on It," a newer, slower tune that combined the full range of Farrell's vocal ability with Dave Navarro's blistering guitar work and a tight, chugging rhythm section (Chris Chaney on bass, Stephen Perkins on drums). It was certainly the peak of Jane's Addiction's trip, and proof enough that when all of their elements are accounted for, they can still form a magnificently weird and timeless sound.