"If we get into a fight, and I give you directions, follow them immediately," said Senior Deputy Brad Welch. "And if it looks like we're losing, help us."
With those orders and a directive to duck should they reach for their batons, Welch, his partner Deputy Jeff Roberts, and this reporter left the Isla Vista Foot Patrol headquarters for a 10 p.m. - 3 a.m. weekend shift through the seaside college town, where beer pong and dubstep fuel big crowds of rowdy coeds.
Welch wasn't looking for a fight, and his mini-briefing wasn't meant to be dramatic. It was a matter-of-fact warning. On any given weekend night, the Isla Vista Foot Patrol (IVFP) ​— ​made up of 14 Sheriff's deputies and seven UCSB police officers ​— ​deploys eight to 12 men and women to oversee more than 25,000 people packed into a 1.85-square-mile patch of middle- and lower-class neighborhoods. Some of them hoof it; others patrol on bicycles and in cruisers. "When things get crazy," explained Welch, "you suck up into the shadows and cross your fingers."
While the small force is able to keep relative peace in a community famous for massive parties and carefree yet contrarian attitudes, more IVFP troops are assaulted than any other group of peace officers in Santa Barbara County. From 2009-2012, there were 84 street assaults against the IVFP; the next highest was in Santa Maria with 40. Last Halloween, an IVFP sergeant was punched so hard he's still not back at work. More recently, a young suspect high on bath salts tried to eat Welch's fingers, and another ripped the sprinkler head off a holding cell's ceiling, flooding the room and shorting electrical systems.
While these flashes of violence make headlines ​— ​especially now that UCSB's alert system warns students of recent assaults, rapes, and robberies ​— ​the IVFP and its commander, Lieutenant Ray Vuillemainroy, have been quietly working to reimagine the adversarial relationship between cops and students. Since he came to Isla Vista in 2010, Vuillemainroy ​— ​a 17-year veteran of the Sheriff's Department who is originally from San Francisco and has a doctorate in education ​— ​has pushed "community policing" by reaching out to business owners, permanent residents, students, their peer governments, and UCSB/SBCC staff to tackle priorities.
"Crime is a community issue, so it only makes sense that we work together to fight it," said Vuillemainroy, who's increased patrols in problem areas, installed more street lamps, and continued a sticker campaign to educate residents that locking doors could reduce burglaries by 80 percent. His pragmatic approach is catching the attention of law enforcement agencies near and far, including Tajikistan, which recently sent a cadre of generals to learn about improving relations between their citizens and police force. Vuillemainroy also traveled to Egypt to help state authorities at the height of the country's violent upheaval.
Though his community policing is making an impact, a decade of I.V. statistics still show an upward trend in serious felonies. "I think we've come a long way, but there's more work to be done," said Vuillemainroy.
His most recent challenge was the spring break party Deltopia, a spin-off of the now-squashed Floatopia beach bash, that happened this past weekend when 18,000 partyers took to Del Playa Drive under a warm Saturday sun and triggered 440 calls for service. Twenty-three people were arrested, 71 were issued citations, 59 got tickets from the Highway Patrol, five got DUIs, and 44 people wound up in the hospital (including four who were standing on an overcrowded frat house balcony when it collapsed under them).
Tragically, at around 8:20 a.m. Saturday morning, the body of 18-year-old Giselle Ayala was found by a jogger near the surf line west of UCSB's Campus Point. A Cal Poly freshman from Santa Rosa, Ayala had arrived in Isla Vista with her friends the night before to attend Deltopia. A toxicology report is pending, and authorities continue to investigate Ayala's death but say her injuries are consistent with a fall from the cliffs above the beach.
Third District Supervisor Doreen Farr said she was "greatly saddened" by the news. Efforts to end the many public-safety problems associated with past Floatopias haven't worked, Farr said, as revelers have simply moved the annual super party off the beach and onto the streets. "Going forward, we need to redouble our efforts to see what we can put together," she said. "Obviously, we're going to have to do more."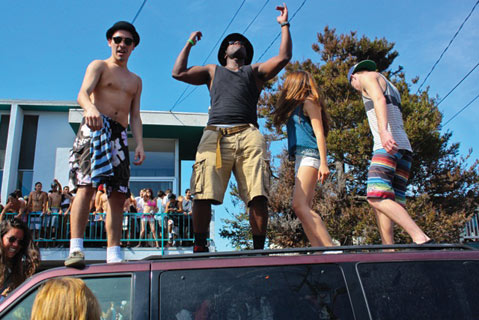 BETH ASKINS