The second after I volunteered to write this story, I felt a pang of regret, worried that I was perpetrating a crime equivalent to exposing a treasured surf break or a secret backcountry hiking trail. Such sins are doubly perfidious in a town that can seem like it's overrun by students, tourists, and Silicon Valley executives who decided they'd like to die somewhere with a nicer view. I didn't quite get that when I first arrived in Santa Barbara seven years ago. It felt like a place that was insular and wary of outsiders, but I have come to realize that sometimes residents just want to have a little slice of their city to themselves. Who am I to dishonor that sentiment?
The truth of this matter, however, is that the cat is out of the bag. Ever since the Fiesta Cruiser Run made its way onto Facebook five years ago, attendance has exploded. Last year, the police counted 1,200-1,400 riders at the starting line ​— ​the dolphin fountain ​— ​but Rex Stephens, who takes a tally with a clicker at Goleta Beach, puts the number closer to 3,000. Only about 400, he estimates (somehow), live in Santa Barbara County. What started out as a quaint tradition 34 years ago has now been annexed by visitors like everything else.
Even so, there's something beatific about the unsanctioned event, where bicyclists flood State Street for blocks on end, reclaiming it from automobiles that get stuck waiting at cross-streets for upward of 10 minutes. As a bicycle commuter and recreational cyclist who is used to getting yelled at from behind SUV windows (as if their drivers are the vulnerable ones), I can't help but enjoy the one day when bicycles dominate.
To some, I suppose, the Cruiser Run can look like chaos. A few days after Fiesta last year, Police Chief Cam Sanchez told the City Council that the riders "really have no reason but to cause a mess." His conclusion struck me as particularly off, not only because I had been one of those riders. I could think of several reasons people were pedaling their single-speed steeds that day: catching up with friends, showing off pimped-out cruisers, enjoying another day of fine-ass Santa Barbara weather outdoors.
And yet, there was a kernel of truth in the police chief's description of the event. Part of the thrill of the ride is a lawless, carnival atmosphere where riders can ignore the strictures of their everyday lives and blow off steam, where social divisions collapse and earthly pleasures trump the intellectual. In short, it's a party on wheels.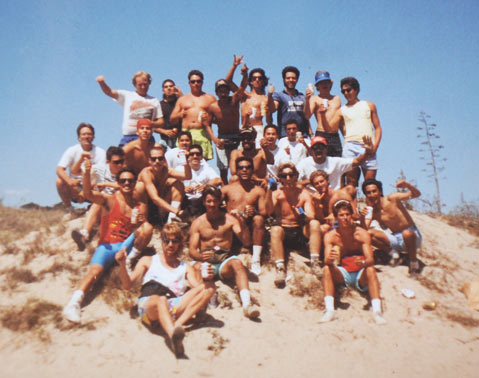 By Courtesy Photo