Author's Note: This is the start of a series of articles on learning to live with wildfire.
In a major victory for 60 of the homeowners whose houses were destroyed by the Jesusita Fire, Stihl Incorporated last week agreed to settle a civil lawsuit that claimed the company's power tools ignited the May 2009 wildfire. The terms of the settlement were kept confidential.
The suit was brought on behalf of the homeowners by Los Angeles attorney Brian Heffernan, of the firm of Engstrom, Lipscomb & Lack. "This settlement provides a measure of relief for the homeowners who lost not only their homes and possessions, but, in many cases, irreplaceable items," explained Heffernan, who has extensive experience in wildfire-related litigation and also represented a number of victims of the Tea Fire. The settlement was the result of mediation that was ordered by the court last spring, as attorneys were in the midst of deposing dozens of potential witnesses for a civil trial that was expected to begin this August.
The settlement comes more than three years after the Jesusita Fire erupted around 1:39 p.m. on May 5, 2009, along a stretch of Jesusita Trail in upper San Roque Canyon. By the time it was contained 10 days later, the wildfire had burned 8,733 acres, cost more than $35 million dollars to fight, destroyed more than 80 homes and outbuildings, and injured 30 firefighters — three of whom required hospitalization for second and third degree burns. It's believed to have been caused by Santa Barbara contractors Dana Larsen and Craig Ilenstine, who were seen clearing brush along the trail with power tools shortly before the fire erupted.
The suit was filed on July 14, 2011, about a year after Larsen and Ilenstine pleaded no contest to misdemeanor charges of using brush cutters without proper permits and fire suppression equipment. A previous attempt to prosecute the two for more serious charges was tossed out by a judge, so they were each sentenced to 250 hours of community service and three years probation. But given the destruction of so many homes and the serious injuries sustained by firefighters, many in the community felt that the pair got off too easy, and that frustration, said Heffernan, is what motivated numerous homeowners to file this case.
The lawsuit's major allegation was that Stihl did not warn users like Ilenstine and Larsen that the metal blades of the Stihl FS 110 brush cutters could spark a wildfire in high-risk areas, a situation that would require a special label per the California Public Resources Code. The company countered that such sparks were insufficient to start a fire. Experts from Santa Barbara County Fire, CAL FIRE, and other agencies retained by Heffernan disagreed. Heffernan explained, "The defense in the case was premised on two fundamental untruths: that Larsen and Ilenstine did not work in the area where the fire originated on the day of the fire, and that, even if they did, the sparks for a metal blade like they were using were incapable of igniting a fire."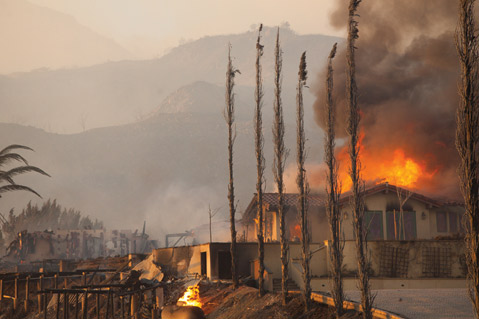 By Ray Ford