It's been almost three years since the federal government granted Happy Canyon status as its own wine grape-growing appellation, and the handful of estate wineries that make up the nearly 24,000-acre, noticeably warmer slice of the eastern Santa Ynez Valley continue working hard to show that red Bordeaux varietals like cabernet sauvignon can indeed shine in Santa Barbara County. Because Napa has long been the California kingdom of such wines — with renewed energy in Paso Robles also aimed at those grapes — Happy Canyon still faces considerable challenges to stand out in a crowded international marketplace, and the bucolic area's lack of tasting rooms (due mostly to the opposition of neighbors) only makes that marketing push harder.
That's because establishing a global presence in the wine business isn't just about what tastes good. If that were the case, Happy Canyon wouldn't have any trouble. I learned as much last month after tasting a number of recent releases, from the red Bordeaux and a syrah to a sémillon-based white blend and the always outstanding series of sauvignon blancs. The wines show well-considered character while revealing that there are many strategies for expressing Happy Canyon, from showing off power and tannins as is done in Napa to embracing the traditionally lamented vegetal elements of red wine. Though it's expected to engage in the former pursuit, the latter may wind up being a truer expression of this unique corner of the Central Coast and could be one key to finding fame beyond the county's borders. What the future will taste like is very much a moving target, for like any newly laid foundation, there's still a lot of settling going on in Happy Canyon when it comes to winemakers and their styles.
The most staff stability, and probably the best expression of the region's naturally herbal undertones, comes from Happy Canyon Vineyards (happycanyonvineyard.com), where Doug Margerum has made wine for the Barrack family since the project began a decade ago. Their workhorse blended bottlings, the merlot-forward Piocho and ultra-affordable, cabernet-franc-based Chukker, have been crowd-pleasers since they were released, and those prepared to spend some more will reap rewards from Barrack Family Estate wines known as Brand (a super smooth, berry-powered merlot) and 10-Goal (90 percent cab), which, at least for my taste buds, proudly allows roasted green pepper elements to lead. There's also a Barrack Blanc, which, in the 2011 vintage, uses 67 percent sémillon and 33 percent sauvignon blanc to deliver a slightly honeyed, clean, and crisp white Bordeaux experience.
Toward the end of the road lies Star Lane Vineyard (starlanevineyard.com), arguably the most dramatically beautiful wine property in California, with vines creeping up steep hillsides, a palatial winemaking facility atop a massive manmade cave, and the peaks of Figueroa Mountain as a backdrop. After a few years of winemaking by Andy Alba, the winery recently named Tyler Thomas, formerly of Sonoma's Donelan Family Wines, head winemaker. What that means for the future is still unfolding, but it's likely that the Astral blend — whose components can vary widely each vintage — will continue to be the Star Lane flagship, as its chalky, cherry character makes for an elegant Bordeaux blend in the classic California style. The Block 9 cabernet puts tannins out front with a bit of cedar and blackberry, while the property's sauvignon blanc can be quite pungent, offering a rare combo of both tropical and freshly cut grass notes.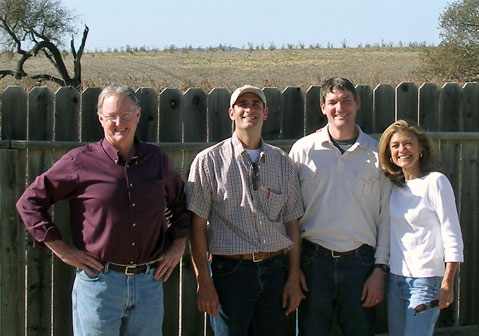 By Courtesy Photo