Raymond Macias, a defendant on the city's proposed gang-injunction list and the Eastside program coordinator for La Palabra ​— ​a nonprofit working with at-risk youth ​— ​is sitting in Santa Barbara County Jail on $3.8 million bail. He faces allegations that he was the head of a criminal organization that collected drug taxes from street gangs throughout the county, and if convicted, he could spend the rest of his life in prison.
The charges against Macias, one of 15 people indicted by a Grand Jury and arrested last Thursday, put a sharper focus on an organization that has been in the crosshairs for years. Many prosecutors and members of the SBPD don't like Palabra and don't trust the people working with the organization, including Executive Director J.P. Herrada, himself a former gang member and two-striker. Authorities question the motives of group leaders and wonder if their interests really lie in helping the city's at-risk youth. But supporters see it as one of few organizations taking an innovative and grassroots approach to dealing with gang-related issues in Santa Barbara.
Down Low for the LowDown
Palabra sprung up a few years ago out of the Collaborative Communities Foundation. Herrada originally worked with the Foundation but eventually molded it into Palabra. It came at a time when teenage gang violence was a citywide focus, and several groups working with troubled youth were fighting for grant money. Palabra was eventually able to secure significant funding from the McCune Foundation, the Fund for Santa Barbara, and the Bower Foundation.
Group leaders say their goal is to minimize violence on the streets of Santa Barbara and decrease the number of youths entering the justice system. Recognizing the difficulty in doing so, Palabra doesn't make kids denounce or quit gangs but tries instead to develop alternative paths for them. The group regularly conducts street mediation, and it recently stood against the proposed gang injunction with an organized showing at City Hall when councilors addressed the issue.
Palabra doesn't have a lot of infrastructure in place, but Herrada is smart and articulate about what he knows ​— ​the streets. "J.P. has opened my eyes that life doesn't always look like it does over here," said the Bower Foundation's Jon Clark. "Walk a mile in another man's shoes … J.P. has shown me that more than anybody. We must have that different voice in our community." Herrada is working with the foundations to improve the way hard data is collected so there can be a better understanding of how Palabra works.
While it may be hard to quantify what exactly Herrada does on the streets, foundations trust him, as evidenced by the checks they write. The Bower Foundation, for example, gave Palabra $75,000 last year. And there are stories about the work Herrada and company have accomplished, like helping kids avoid gangs or get out of them. Herrada also says Palabra is able to stop violence before it happens, another metric difficult to calculate.
Herrada's methods, however, often come into question as authorities observe how he and fellow leaders seem to keep one foot in the gang game. Part of the reason for the rocky relationship is Herrada's lack of a rapport with police, which likely stems from a culture that distrusts law enforcement as well as a desire to protect the kids with whom he is interacting. Though he has his ear to the ground, Herrada, in order to keep the trust of the kids he works with (and to avoid getting labeled a snitch), won't share information with police. "We knew we were coming in, rocking the boat," Herrada said of Palabra's style.
Since Palabra has been around, authorities say they have experienced more defiance from youth and find it suspicious that Herrada, Macias, and Joe Sanchez ​— ​another Palabra worker ​— ​tend to show up at some crime scenes shortly after an incident has taken place. An assault outside the Franklin Center last year, which Macias and Sanchez witnessed, led to Palabra being banned from holding meetings at city facilities.
Some law enforcement officials don't mind that Palabra doesn't work with them, but they say the group is helping to actively thwart police efforts. Police and prosecutors allege Herrada and company expose informants, use their meetings to teach kids how to avoid law enforcement, and actually encourage gang culture. "It's long been our belief that they've been involved in gang organizing," one official said. And, quietly, authorities are using Macias's arrest to prove their point.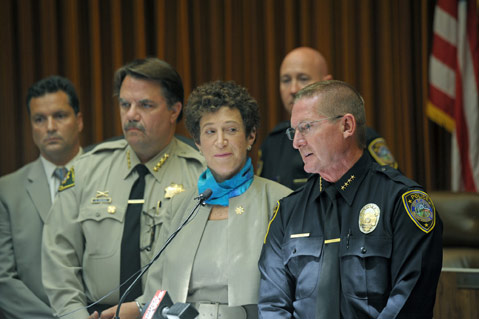 By Paul Wellman