It is 2:40 p.m. on a quiet Monday at the beach near Santa Claus Lane. There are perhaps 40 people walking on the sand, a handful of dogs playing at the water's edge. A woman crosses the railroad tracks with her baby strapped in front of her. Just another day in paradise.
At 2:45:13, a woman walking her dog heads across the tracks on the way back to her car. Just as she crosses, the railroad light at Padaro Lane turns green, signaling that the northbound Pacific Surfliner is heading her way. A hundred yards east of her, another woman also crosses. She's not paying much attention as she looks for an opening in the fence that Union Pacific Railroad put in a few years ago, ostensibly to keep sand off the tracks.
At 2:45:30 she looks up, startled, as the Surfliner turns the corner. There's a moment of hesitation ​— ​like she's thinking which way to go ​— ​then she bolts to the right through the fence to safety. At 2:45:42 the train hurtles by, just 12 seconds after it first appeared in sight. Another second or two of hesitation, and she might have been in trouble.
In 2007, Alan Shapiro, owner of the nearby Black Eyed Susan's shop, was not so lucky; he was killed by a similar northbound train. Witnesses say they saw Shapiro walking his dog, which was not on a leash, while talking on his cell phone. When the dog wandered onto the tracks near the Sand Point Road crossing, he chased after it, trying in vain to save it from the oncoming train.
Statistics from the Federal Railroad Administration Office of Safety Analysis note that from 2000 through 2011 there were 38 fatal pedestrian-train incidents in Santa Barbara County.
On January 2, 58-year-old Pamela Price was killed near the railroad crossing along Butterfly Lane. Six months earlier, another woman was killed a half mile east at the Eucalyptus Lane crossing. While some of the deaths (including the one February 4 near the Amtrak Station) appear to be suicides, pedestrian-train accidents have become the leading cause of death on the rails: Approximately 500 people are killed every year across the country, with California leading the way.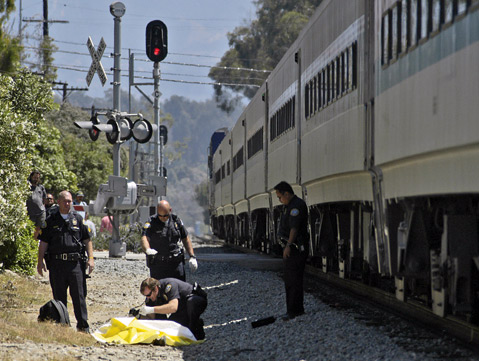 By Paul Wellman (file)