Three-year-old Jake Dollar sits in the stands, helmet on head, snack in hand, cheering for his big brother, "Go, Johnny, go!"
Johnny zips through turns and flies over jumps on his pint-sized bike. The 5-year-old first noticed the track when his older sister Julia was dropped off at a summer day camp at Elings park. He was immediately smitten. When he learned to ride a two-wheeler in only one day, his parents realized biking might be more than just a passing interest. They now spend at least two evenings a week at the track.
Though he's too young to race alongside his big brother, Jake is every bit a part of the crew at Elings. A unique group that spans from toddlers kicking dust clouds on the sidelines, to men with decades of riding experience. They all share a common love of and respect for BMX, and for each other.
Relaxed Riding
Many kids come to Elings to ride recreationally. They may participate in camps, clinics, and practices but decide not to ride competitively. Hank Sarria, mentor, staff member, and self-appointed track historian said, "A lot of kids in Santa Barbara aren't that interested in racing, but we want them to come out and ride, have fun, be healthy and stay out of trouble."
Seth Weiner (age 9) is beaming as he pedals up to his grandmother Janie Taylor for a quick drink. Seth is among eight riders participating in an afternoon clinic run by coach and track operator Brian Mohr. The clinics are offered weekly and focus on building skills in a safe, noncompetitive environment. Janie loves the support offered to her grandson and the other riders during this time. "There's someone watching and teaching him and it's a smaller group where he can get comfortable," she said.
Brian keeps the atmosphere light, "Just have fun, that's my main thing," he encourages.
Seth is having no trouble on that front. It's his fourth visit to the track and his smile grows bigger with every lap. He's already psyched about the sport and currently trying to convince his grandmother to buy him a faster bike. Janie is confident that Seth will continue riding, "I have no doubt he'll move into racing."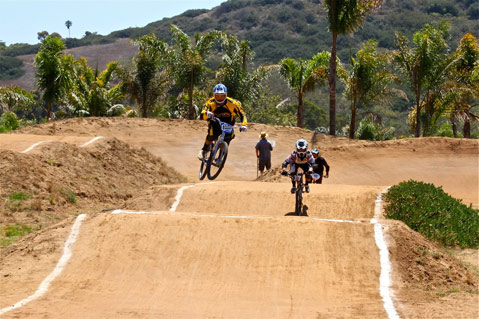 Jcrew Photography