It was a mid-October weekend, the heart of the football season, and the sport with the highest participation in Santa Barbara was lacrosse. Eighty teams from up and down the state wielded sticks in the Santa Barbara Showdown, a youth lacrosse tournament on the vast polo fields in Carpinteria.
UCSB has fielded men's and women's lacrosse clubs for a number of years, but the formation of teams for children ages 8 and up is a recent development in the community. Proponents say lacrosse is the fastest-growing sport in the country. Annual surveys by U.S. Lacrosse show that between 2001 and 2013, the number of players on organized lacrosse teams grew 194 percent to 746,859 ― almost 700,000 at the youth and high school levels. Participation in Santa Barbara has grown from a handful of players at private prep schools to several hundred youths in the Santa Barbara Lacrosse Association (SBLA), and the three city high schools are going to field CIF lacrosse teams in the spring of 2015.
Rugby is another increasingly popular sport that is between football and lacrosse on the scale of physical contact. It has grown by a magnitude of some 300 percent in a decade, to a present total of 115,000 registered members of U.S.A. Rugby. UCSB, Westmont College, and SBCC have long-standing clubs, while older ruggers keep playing for the Santa Barbara Grunion and the Fossils. Meanwhile, the Santa Barbara Stingrays youth rugby program is entering its fourth year. About 100 children ages 10 and up are practicing to play on age-group rugby teams.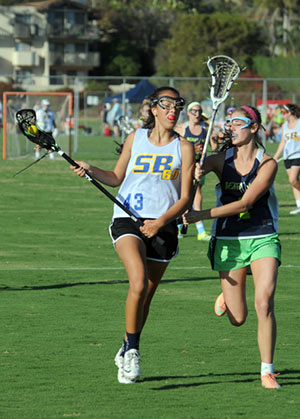 By Paul Wellman