The panic started sometime after the New Year. It found its way to my inbox and my Twitter feed, took up residence on my Facebook wall, and dominated conversations with friends and colleagues. I read reports titled "Holy Fukushima ​— ​Radiation Already Killing North Americans" and "28 Signs That the West Coast Is Being Absolutely Fried with Nuclear Radiation from Fukushima" and "The Worldwide Nuclear Crisis That No One Is Talking About." These were no-holds-barred declarations that Japan's Fukushima nuclear disaster was now a threat to life as we know it here on the West Coast. Beautifully illustrated with maps showing wide-ranging radioactive fallout, these stories were being read, believed, and then shared by intelligent folk around the globe. After all, fear, truly visceral fear, the kind nuclear fallout ignites, has always tended to spread like wildfire ​— ​even before we had social media to fan the flames.
With nuclear events historically shrouded in misinformation and bureaucratic double-speak, it was anything but surprising that the drumbeat of terror grew. The mainstream media largely ignored these reports of deadly oceans and nuclear fish, so into this information vacuum rushed even more doomsday stories. Inundated and eventually swept up in the emotion of it all, I found myself asking my wife in all seriousness if we should consider selling our home before the Fukushima fallout caused the coastal real estate market to crash. Saying this out loud sparked something with my internal bullshit meter, and I realized how truly uninformed I was. On the spot, I decided to put my journalistic chops to work and start talking to real people working in the real world rather than letting my brain continue to spin in the cyber cycle.
In the two months since, I have interviewed crusty, research-hardened college professors, big-brained nuclear chemists, and a professional surfer and filmmaker who bought his own Geiger counter. And, when those conversations confused the hell out of me, I braved the wilds of the Internet, consuming all that I could find on the topic while going down a Google-powered rabbit hole.
Turns out, at least when it comes to Fukushima radiation leaking widespread disaster here in the states, FDR was right; the only thing we have to fear is fear itself …Well, sort of.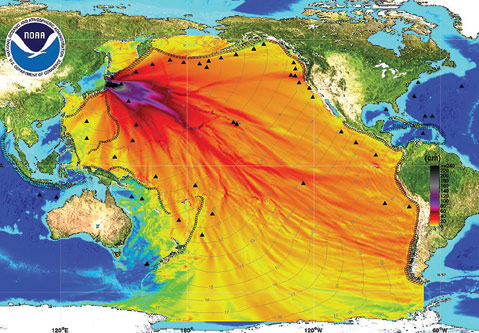 noaa