John Green has three large letters tattooed over his sternum: MOB. It stands for "Mind on Basketball." That was Green's emphasis while his body was missing from UCSB's games. The 6'5" swingman from Oakland made his college debut in a 2011 exhibition, scoring 17 points in a victory over San Francisco State. He and Arizona recruit Alan Williams, a husky post player, appeared to be the future of Gaucho basketball. In Green's case, it turned out to be the distant future.
A fractured left foot ended Green's freshman season before it really started. That was the first in a cascade of injuries that wiped out his sophomore season, as well. He managed to play in three games last February, between the healing of his foot and the breaking of his wrist, for a total of 33 minutes.
MOB sustained Green, though not to the detriment of another reason for his attending UCSB. "Every once in a while I say: 'Mind on Books,'" he said. He is majoring in anthropology and could have settled into student life without putting his limbs at further risk. But then he would not be the man his parents raised him to be.
"There are other people in this world who have things worse than I've had … cancer, things that are life-risking," Green said. "I want to be a living testimony: Don't give up. There are always going to be obstacles in life; it's how you embrace them and how you overcome them. Are you going to quit on something you love?
"I'm a basketball lover. I like to watch [NBA stars] Paul Pierce and Carmelo Anthony. They get to the basket, have a good mid-range game. I try to pattern my game after them. During all those injuries, I tried to mentally learn moves by watching a lot of basketball.
"I look at my mother, Sheila, for guidance. She's always about academics, working hard, being clean, and being kind to people. She kept my spirits up, always making sure I was fine, even if she was far away, telling me to stick with it. My father, Reggie, played college ball. He knows what I can do. He's always been confident, telling me to keep my head up."
Reggie Green was in the stands at the Phog Allen Fieldhouse two weeks ago when his fully fit son came off the bench and contributed nine points in UCSB's season opener at No. 5–ranked Kansas. "I fouled out, a couple bogus calls, but that's how the game goes," John Green said. "My father told me, 'The only thing you can do from here is take off and be better.'"
Green's improvement was immediate in the Gauchos' next game, an overtime thriller at Florida Gulf Coast: 17 points in 26 minutes of action. "On the floor, I had a little rushed tendency," he said. "Now I'm starting to slow down. I'm getting more comfortable."
Green said those words after his most complete game yet, 17 points and seven rebounds in a 91-45 blowout of The Master's College last Saturday. "It's the tip of the iceberg, what we're seeing now with John Green," Gaucho coach Bob Williams said. "What we're seeing now is good; later in the year, you'll see what I've been talking about for three years. … He's probably the most versatile scorer we have."
Green is a senior in years, a junior in eligibility, and a freshman in enthusiasm. "It feels good to see myself on the court, giving the team what the coach wanted to see, that one missing piece, that X factor the team has needed the past couple years," he said. His recovery couldn't be better timed, with Alan Williams geared up to have a huge senior year and depth at every position. "Last year we were good but not great," Green said. "This year we can be great. We took two tough losses on the road that we learned from."
The Gaucho men will play in the Great Alaska Shootout this weekend, opening with Washington State on Thanksgiving night. They'll be home the night of Thursday, December 4, against Seattle.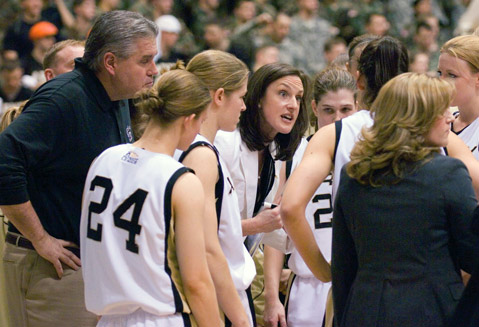 By Courtesy Photo