Barber Shop
Montecito Barbers
1028 Coast Village Rd., 969-1314
It was 48 years ago when Tim Sanchez's grandpa Bob and fellow barber Jess Martinez opened the current location of Montecito Barbers, a place where grocery clerks, movie producers, old money trustafarians, and Robert Mitchum got their ears lowered. Today, Tim is proud to win the readers' approval and even happier to have inherited the chair four years ago from his dad, Matt. "It's a great job and it's a lot of fun," said Tim. "Sit around talking to the boys and watching sports all day. And the people who come in here aren't our customers; they're our friends."
FINALIST: ARTURO'S BARBERSHOP
Hair Salon
Darin Jon Studio
1428 Chapala St., 962-1884
"We've always been community-based and all about the customer," said Darin Jon, who opened his own salon 17 years ago after working for some of the other bests in town. "We don't really campaign to get the readers' approval, and we were very happy to be a finalist. For us to get it means our clients must be voting, and that means our clients must be happy."
FINALIST: WALTER CLAUDIO SALON SPA
Nail Salon
Aqua Nail Bar
3455 State St., 687-8483
"I think we win because we are on the forefront of innovation in the nail salon business," laughed owner Claudia Cordova-Papa. But she is serious, too. They're proud of the new online chat reservation system and new chairs that offer more versatility for stylists moving between mani and pedi concerns. "We can change with the seasons. All these things help us keep up with the times, as well," she said.
FINALIST: ANGELS NAIL & SPA
Day Spa
Float Luxury Spa
18 E. Canon Perdido St., 845-7777
On one hand, owner Natalie Rowe believes that the setting matters. "I do think this is the most beautiful spa in town," she said, of the place that seems so small from the street. It's magically sandwiched between the Lobero and El Paseo yet opens to reveal many hidden glories. "But the real reason people like us," said Rowe, "is my amazing team." Many of them have been with her since the spa first opened five and a half years ago. "And I think that's why we get so much repeat business. Word of mouth is so important, and I think the team is so great that our reputation just gets passed from local to local."
FINALIST: BACARA RESORT & SPA
Medical Spa
Evolutions Medical Spa
350 Chapala St., 687-0212
"It's not a one-size-fits-all business," said managing partner Brian Perkins, who likes to point out that since last year, Evolutions has been evolving. "We have 6,000 square feet and 15 treating rooms and can do everything from facials to Botox injections." In fact, this seems to be what the readers appreciate—a highly respected medical staff that can get under the hood for major repairs, including laser hair removal systems that are only found at Evolutions. "We've made a big investment in equipment and took equal pains to have the right people working for you," he said.
FINALIST: THE G SPA
Place to Get a Facial
Skin Deep Salon
3405 State St., 687-9497
"Fourteen years out of 17—not bad!" exclaimed Skin Deep head honcho Tina Hasche. "Winning a long-running award like the Best Of is like Paula Dean and bacon, kids and candy, Brazil and soccer—it's very exciting! Our team of technicians and sales staff is brimming with pride." The folks at Skin Deep have been in the same location for 34 years, and they seem to be more devoted than ever in connecting with and providing to their clients the best experience possible and loving what they do at the same time. "A big thank-you from not only myself but my sisters and from the best staff we've had in years, all 26 of them; it takes a village. We are honored!" said Hasche.
FINALIST: FLOAT LUXURY SPA
Clothing Boutique
Diani
1324 State St., (877) 342-6474
"We're a small team of people all full-time, so we all know our clients pretty well. We know when something comes in who will probably like it," said Vice President of E-Commerce and Marketing Whitney Moser, now in the 12th year of the boutique voted highest of high couture by the readers. "Our fashions are all pretty timeless, but we represent a lot of designers you can' t find anywhere else in town," she said, citing labels like Isabel Marant, Jerome Dreyfuss, Chloé, and Raquel Allegra. "We're very thrilled to be picked," she added.
FINALIST: NATASHA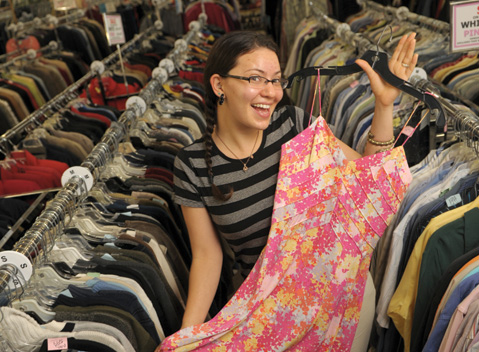 By Paul Wellman (file)