Barber Shop
Montecito Barbers
1028 Coast Village Rd., 969-1314
It was 48 years ago when Tim Sanchez's grandpa Bob and fellow barber Jess Martinez opened the current location of Montecito Barbers, a place where grocery clerks, movie producers, old money trustafarians, and Robert Mitchum got their ears lowered. Today, Tim is proud to win the readers' approval and even happier to have inherited the chair four years ago from his dad, Matt. "It's a great job and it's a lot of fun," said Tim. "Sit around talking to the boys and watching sports all day. And the people who come in here aren't our customers; they're our friends."
FINALIST: ARTURO'S BARBERSHOP
Hair Salon
Darin Jon Studio
1428 Chapala St., 962-1884
"We've always been community-based and all about the customer," said Darin Jon, who opened his own salon 17 years ago after working for some of the other bests in town. "We don't really campaign to get the readers' approval, and we were very happy to be a finalist. For us to get it means our clients must be voting, and that means our clients must be happy."
FINALIST: WALTER CLAUDIO SALON SPA
Nail Salon
Aqua Nail Bar
3455 State St., 687-8483
"I think we win because we are on the forefront of innovation in the nail salon business," laughed owner Claudia Cordova-Papa. But she is serious, too. They're proud of the new online chat reservation system and new chairs that offer more versatility for stylists moving between mani and pedi concerns. "We can change with the seasons. All these things help us keep up with the times, as well," she said.
FINALIST: ANGELS NAIL & SPA
Day Spa
Float Luxury Spa
18 E. Canon Perdido St., 845-7777
On one hand, owner Natalie Rowe believes that the setting matters. "I do think this is the most beautiful spa in town," she said, of the place that seems so small from the street. It's magically sandwiched between the Lobero and El Paseo yet opens to reveal many hidden glories. "But the real reason people like us," said Rowe, "is my amazing team." Many of them have been with her since the spa first opened five and a half years ago. "And I think that's why we get so much repeat business. Word of mouth is so important, and I think the team is so great that our reputation just gets passed from local to local."
FINALIST: BACARA RESORT & SPA
Medical Spa
Evolutions Medical Spa
350 Chapala St., 687-0212
"It's not a one-size-fits-all business," said managing partner Brian Perkins, who likes to point out that since last year, Evolutions has been evolving. "We have 6,000 square feet and 15 treating rooms and can do everything from facials to Botox injections." In fact, this seems to be what the readers appreciate—a highly respected medical staff that can get under the hood for major repairs, including laser hair removal systems that are only found at Evolutions. "We've made a big investment in equipment and took equal pains to have the right people working for you," he said.
FINALIST: THE G SPA
Place to Get a Facial
Skin Deep Salon
3405 State St., 687-9497
"Fourteen years out of 17—not bad!" exclaimed Skin Deep head honcho Tina Hasche. "Winning a long-running award like the Best Of is like Paula Dean and bacon, kids and candy, Brazil and soccer—it's very exciting! Our team of technicians and sales staff is brimming with pride." The folks at Skin Deep have been in the same location for 34 years, and they seem to be more devoted than ever in connecting with and providing to their clients the best experience possible and loving what they do at the same time. "A big thank-you from not only myself but my sisters and from the best staff we've had in years, all 26 of them; it takes a village. We are honored!" said Hasche.
FINALIST: FLOAT LUXURY SPA
Clothing Boutique
Diani
1324 State St., (877) 342-6474
"We're a small team of people all full-time, so we all know our clients pretty well. We know when something comes in who will probably like it," said Vice President of E-Commerce and Marketing Whitney Moser, now in the 12th year of the boutique voted highest of high couture by the readers. "Our fashions are all pretty timeless, but we represent a lot of designers you can' t find anywhere else in town," she said, citing labels like Isabel Marant, Jerome Dreyfuss, Chloé, and Raquel Allegra. "We're very thrilled to be picked," she added.
FINALIST: NATASHA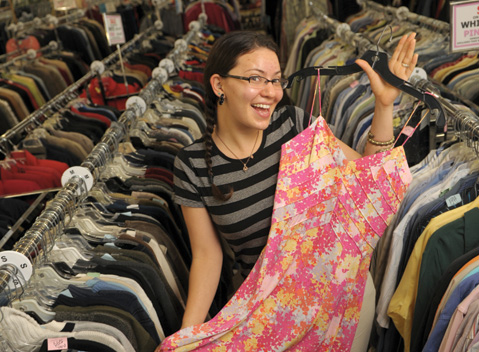 Thrift Store
Alpha Thrift Store
Many locations
Of the big three area thrift stores, the best remains the same, Alpha Thrift. It has a long history here both as an organization and as a popular thrifting destination. Starting out on State Street decades ago, the store moved to outbound locations on Milpas and (two) on Hollister in Goleta. Each store has its own subtle character and regular followers, and buyers will agree they all have the goods: clothing, books, bric-a-brac, and items on "post," things designated by some astute clerk as better-quality thrift than the rest. All stores have a selection of furniture and larger items, and everything eventually cycles through a color system of sales. They try to be seasonal, so check out the Halloween costumes and Christmas bins, and don't forget the sale rack out front.
FINALIST: GOODWILL
Vintage Store
Cominichi's
19 E. Haley St., 962-1413
"I think one reason people like us is because we have real vintage," said Gina Comin, who thinks that a lot of new shops that produce faked 1980s concert shirts and the like have muddied the waters. Comin should know; she's been in business in a number of different sites around the lower downtown area since 1989, and even though it has been hard, she has operated a real vintage store/art gallery/cool hangout for all these years. "It's so great that I won. I can't believe it. I'm so happy."
FINALIST: PUNCH INTÉRIEURS
Consignment Store
Jessica Consignment
2008 De la Vina St., 687-2755
In the bookstore world, there are used-book and (at a higher, more sifted-out level) rare-book stores. Jessica's is the equivalent—you might find a designer label in a thrift store, but you will only find gently used clothes of fine pedigree in a store like this. They buy Blahnik, Jimmy Choo, Prada, and Stella McCartney (and many more of that caliber) from people who want to thin out their fancy closets. You walk in and get nice things to wear at a super nice price. It won't be the rag-and-bone shop, but it's a lot less finance-draining than a trip to L.A.'s Robertson Boulevard.
FINALIST: THE CLOSET
Dry Cleaner
Ablitt's Fine Cleaners & Launderers
14 W. Gutierrez St., 963-6677
Since 1934 when the building that houses this dry cleaner was first built—it had another name then—the Ablitt family was on duty. Today, Sasha Ablitt runs the business her father renamed after the family 30 years ago, and she loves it. "I used to wonder why more people don't take advantage of our free pickup and delivery service," said Sasha, "then one day I spent some time in the front and saw how much fun the people who came in were having with our staff. I think that's great. I do want people to know that our drivers are just as nice, too."
FINALIST: MARTINIZING DRY CLEANING
Tailor
Lee's Tailoring
4141 State St., 967-5728
"Oh, really? I won again, how cool," said Lee Thompson, who has owned this perennial favorite for the last 24 years. "I think I win because I have the right stuff to make the job perfect. I'm always buying new equipment. I just got a new machine that fixes the zippers on lady's boots and one that re-attaches the straps on backpacks. If there's a job, I'm going to be all over the top of it."
FINALIST: TONY THE TAILOR
Eyewear Selection; Sunglasses Selection
Occhiali Fine Eyewear
Two locations
Occhiali's Irwin Eve is a proud winner, and here's what he had to say about his company: "Since 1988, Occhiali has been providing unique, handmade eyewear and expert guidance in a comfortable and luxurious atmosphere. Occhiali has ABO-certified opticians that are brutally honest in telling you how each pair of glasses looks on your face. … Taking into account your prescription and frame choice, we help choose the lens product best for you. Our approach is artisanal and educated, and we take time to ensure an optimal balance of good looks, comfort, and clear vision."
FINALISTS: COSTCO (EYEWEAR SELECTION); SOLSTICE SUNGLASS BOUTIQUE (SUNGLASSES SELECTION)
Shoe Repair
Jesse's Shoe Repair
5915 Calle Real, 964-3414
Jesse Holder has been on the job for 43 years, and he gets up very early so that people can drop their favorite loafers, heels, pumps, boots, wingtips, saddle shoes, desert boots, sandals, Earth Shoes, Uggs, or even Mary Janes off when they are down at the heel to be retrieved after Holder makes them smart for walking again.
FINALIST: STEP-N-OUT
Shoes
Nordstrom
Paseo Nuevo Mall, 17 W. Canon Perdido St., 564-8770
Men and women's shoes from sneakers to fine designer footwear, from the comfy Converse and Ugg end of the spectrum to the chic show-off Jimmy Choo—all the levels of footwear are available here. It'll save you a lot of legwork, and the selection in all the varying levels of shoe sophistication includes a lot of soul. Nordy's has won this category since it came to town.
FINALIST: MACY'S
Jewelry Store
Bryant & Sons
812 State St., 966-9187
"I think we've won this for the last 15 years. It makes us very happy, and we don't take it for granted," said store manager Tony Schaap, who also stresses the range of sparkle the shop represents from affordable to the limits of sky. "We hope that the reason people vote for us is because of the very high-quality pieces we sell and how hard we work to show them to you. We try hard not to say 'No.'"
FINALIST: PATCO