Bernard Friedman's typical day starts around dawn, when the first rays of sunlight paint the Santa Ynez Mountains pink. As smells of hot coffee and diesel gas waft through the Santa Barbara Harbor, he hops onto his 35-foot boat Perseverance ​— ​so named for the 13 years he courted his wife, but a trait he's forced to exhibit endlessly ​— ​and heads out to sea.
Unlike most Santa Barbara fishermen, from urchin divers to black cod long-liners, who must navigate for miles to reach unpredictable fishing grounds, it takes less than 15 minutes for Friedman to pull up to his sure-thing site, a 25-acre underwater grid of mesh ropes connected by red, blue, and green buoys located less than a mile off of Hendry's Beach. A few minutes later, as the sunrise starts reflecting off the glass windows of The Boathouse restaurant, Friedman is already hauling in his morning catch, a few hundred pounds of mussels that he grew from tiny seeds to plump shells over the past year. They're sheared off the clumpy ropes onto the spinning bristles of a specially designed scrubbing machine and will later be hand-washed on deck and dumped into the purple mesh bags that find their way to restaurants and seafood dealers hundreds of miles away.
He's repeated this routine most days of the past 12 years, yet the 2014 haul was the biggest yet: more than 160,000 pounds of mussels, and the first time he'd ever maxed out the farm's current capacity. "I can't grow enough mussels to satisfy the demand," explains Friedman, who fields orders on his cell phone from the Santa Barbara Fish Market, Harbor Seafood, and Kanaloa Seafood while on the boat. "We harvest exactly what people need, and you can be eating it tonight. What we do is unparalleled in most farming industries. We harvest to order."
Friedman's job is even more unique than that. While a handful of shellfish farms exist in coastal estuaries and some freshwater fish species are cultivated on land, the 42-year-old is the only open-ocean aquaculturist in the entire state of California. He founded Santa Barbara Mariculture in 2002 by taking over an existing but essentially forgotten offshore oyster farm. He eventually moved to mussels, and business blossomed, fertilized by modern culture's insatiable desire for locally grown, sustainably sourced cuisine. Friedman believes he could easily double his business and move 7,000 pounds a week, which wind up on plates from the Central Coast south to San Diego and out to Arizona. "Just this town alone could exceed 2,000 pounds a week," he predicted.

And it's not just hungry foodies banging the drum. As the world watches wild-caught fish stocks disappear, today's aquaculture advocates ​— ​including prominent UCSB scientists, who can see the Perseverance working from their oceanfront offices ​— ​believe that fish farms, when done right, are critical to feeding the Earth's exploding population. Shellfish, in particular, give the most protein bang for the buck with the least environmental impacts. And most everyone agrees that it's high time the United States ​— ​which chalks up more than $11 billion in annual trade deficit by importing 91 percent of our seafood, half of that from often under-regulated fish farms ​— ​started putting more oars in the water.
Yet even with the stars so magically aligned, and a banner year under his belt, Friedman fears his business may not be able to grow or even survive. Though he'd held a 72-acre lease from the California Department of Fish and Wildlife for a decade and always farmed about 25 acres, Friedman learned in 2012 that he was really only permitted by the state to farm one acre. Let's fix that, he thought, only to quickly learn that his graduate degree in fisheries management did not prepare him for the costly, time-consuming regulatory rigmarole he'd have to endure, especially if he wanted to expand the farm to harvest more mussels and maybe even oysters or scallops. But three years, multiple studies, and lots of correspondence later, the alphabet soup of agencies involved still can't predict when or if he'll ever be legal.
In the meantime, two ambitious open-ocean fish farms are swimming into Southern California waters. Both are state-of-the-art attempts to tackle America's seafood deficit on a grand scale, and that could be good for the gander. But both are backed by millions of investment dollars and robust research initiatives, putting Friedman's mom-and-pop-sized golden egg in jeopardy. He fears that the onerous, expensive rules established for these large operations will keep artisanal fish farms like his out of the game for good.
"Sometimes I get the feeling that I was never supposed to actually make it, that open-ocean farming is for the millionaires, not for the small guy at all," Friedman told me one sunny morning last month, as bivalves flew across the bristles and into trash cans full of sea water. "But somehow I've succeeded ​— ​at least for the moment."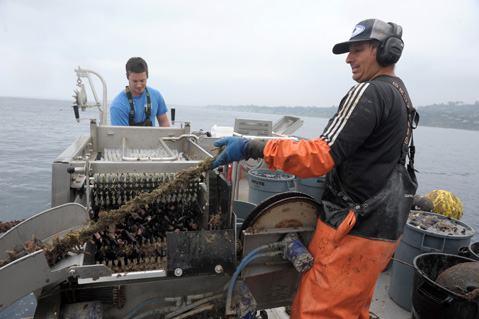 By Paul Wellman