Peter Howorth is a big crunch of a man with a big crunch of a handshake. In his line of work, both attributes are vital. For the past 50 years, Howorth has been capturing sea lions, seals, whales, and other marine mammals. It's an up-close-and-personal endeavor not for the weak of grip. Initially, Howorth sold his creatures to zoos, circuses, and sea parks for display. It was good money. During the past 39 years, though, Howorth has been atoning for his role in the marine-mammal skin trade. As chief cook and bottle washer for the Santa Barbara Marine Mammal Center ​— ​the organization he started ​— ​Howorth has made it his mission to patrol the coast of Santa Barbara County in search of seals, sea lions, dolphins, and whales to rescue, rehab, and release.
He's never been busier.
In the past three months, Howorth estimates he's been getting 50 phone calls a day, all with the same urgent message: sea lion pup in distress. Due to radical changes in coastal ocean temperatures, sea lion pups are washing ashore by the thousands, starving to death. With coastal waters 4-8 degrees warmer this year than last, the squid population usually parked off the coast in spectacular abundance ​— ​a key food source for sea lions ​— ​has hauled its teeming biomass north. Additionally, for reasons still not clear, the sardine population, an oil-rich staple of the sea lion diet, has tanked so precipitously that federal regulators ​— ​for the first time ever ​— ​will declare sardine fishing off-limits. Into this empty bowl are thrown all the pups born in June; that's when 90 percent of all sea lions are born. Now 9 months old, they're not yet competent to fend for themselves and have to rely on their mothers for foraging. But the mothers, struggling to maintain weight and milk supplies for the next generation of pups, can't deliver, so the pups must strike out on their own.
Little surprise then that most of the pups Howorth finds have burned through all their body fat and blubber. A typical 9-month-old sea lion should weigh between 50 and 70 pounds, but the pups Howorth is finding weigh about 20 pounds, roughly what a sea lion typically weighs at birth.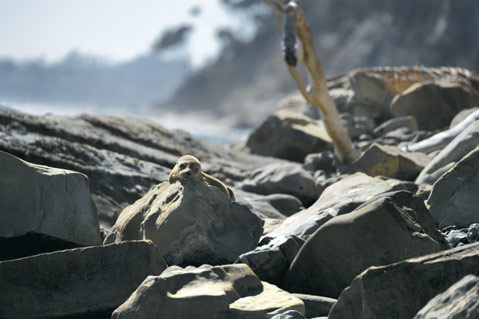 By Paul Wellman