Bike theft is a problem. According the National Bike Registry, $350 million in bicycles are stolen in the United States each year. No one knows exactly how many bikes are ripped off each year, but the FBI reports that over 205,000 bikes were stolen in 2010. The FBI believed that nine in 10 thefts go unreported. That's millions of bikes.
In all my years of riding, I've only had one bike stolen. Some of that is due to luck, and I've always been cautious about where and how I lock my bike. City officials in Portland are realizing theft has become a big problem and that it is beginning to discourage cycling. It's more glamorous to talk about building protected bikeways or bike corrals, but bottom line, having your beloved bike stolen while you are at school or shopping is heart breaking.
Three simple steps can help prevent your bicycle from disappearing: record the serial number, register your bike, and lock it. I've written in the past about how to properly lock your bike so I want to focus on registering your bike, what to do if it is stolen, and new technology that may help you locate your bike if you return from shopping to find only a cut cable or U-lock.
But first, here are some simple tips from the City of Portland and an illustration of how to lock your bicycle.
• Always use a U-lock. Never use only a cable lock.
• Lock your wheel and frame together.
• Use a bike rack (sign poles are not as secure).
• When possible, do not park your bike on the sidewalk or street overnight.
• Lock your bike in a well-lit and well-traveled area.
• Take lights and other easily removed items with you.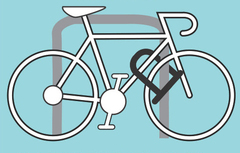 Portland Bureau of Transportation