News
Be a Bike Lock Hawk
Keep Track of Your Bike When You're Not Pedaling
Bike theft is a problem. According the National Bike Registry, $350 million in bicycles are stolen in the United States each year. No one knows exactly how many bikes are ripped off each year, but the FBI reports that over 205,000 bikes were stolen in 2010. The FBI believed that nine in 10 thefts go unreported. That's millions of bikes.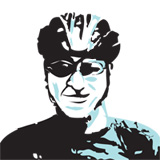 In all my years of riding, I've only had one bike stolen. Some of that is due to luck, and I've always been cautious about where and how I lock my bike. City officials in Portland are realizing theft has become a big problem and that it is beginning to discourage cycling. It's more glamorous to talk about building protected bikeways or bike corrals, but bottom line, having your beloved bike stolen while you are at school or shopping is heart breaking.
Three simple steps can help prevent your bicycle from disappearing: record the serial number, register your bike, and lock it. I've written in the past about how to properly lock your bike so I want to focus on registering your bike, what to do if it is stolen, and new technology that may help you locate your bike if you return from shopping to find only a cut cable or U-lock.
But first, here are some simple tips from the City of Portland and an illustration of how to lock your bicycle.
• Always use a U-lock. Never use only a cable lock.
• Lock your wheel and frame together.
• Use a bike rack (sign poles are not as secure).
• When possible, do not park your bike on the sidewalk or street overnight.
• Lock your bike in a well-lit and well-traveled area.
• Take lights and other easily removed items with you.
Let's start with the serial number. Cars have unique vehicle identification numbers (VIN) stamped on the dashboard and engine. All bikes also have unique serial numbers.
If you bought your bike from a local bike store, your sales receipt should include the serial number. If you bought your bike from Craigslist, eBay, or a friend, here's how to locate the all-important serial number. Most bicycles have their serial number engraved on the bottom of the bottom bracket, but sometimes serial numbers are found in other places such as the head tube or rear dropout. Take a minute, turn your bike over, find the serial number, and write it down.
Now that you have the serial number, write it big on a large piece of paper. Have a good friend to take a photo of you holding that paper in front of your bike. That one photo will identify your bike, the serial number, and that you own it. Most bike shops also keep records of past sales, including the serial number.
Now it's time to register your bike. Some police departments have set up bike registries. Registering your bike is important because it helps to prove ownership, and if your bike is stolen, it's a way to aid in its recovery. Bryan Hance's Bike Index is a great resource. When you register a bike on Bike Index, you're creating a listing of important information such as brand, model, size, color, serial number, components, and any other unique or identifying features.
Creating a listing on Bike Index is simple. Log on to Bike Index, and just follow the link to Register Your Bike and enter as much or as little information as you can about your bike. The more information you post, the more helpful your listing will be in the future. You can also go back to your listing at any time and update it with changes to your bike and add current photos.
If your bike is stolen, you can use the Bike Index network to help get it back. If your bike is already registered, all you have to do is log on and mark your bike as stolen. Bike Index will offer you suggestions that might help you to find your bike, and the site will use Twitter to send out an alert to your region. Police departments and pawnshops use Bike Index database to check bikes that they receive or recover.
Even if you register your bike on Bike Index or other registration services, here are some other must-dos if you walk out of SOhO after an evening of music and dancing, and you find your bike is missing.
File a report with the S.B. Police Department. You can file it online, but investigators strongly recommend reporting it in person. Provide serial number and pictures if you have them.
Look for cameras near where the bike was stolen. Oftentimes, buildings will have cameras facing the street. Contact the building owner right away to recover tapes.
Post the bike as "stolen" in the bike section of Craigslist. If you receive a tip or info, contact the police. Do not attempt to recover bike on your own.
File a claim with your renter or homeowner's insurance company. Sometimes bike theft is covered.
Several new technologies may also help you find your lost bike. The TrackR and the Tile are two small devices that you can attach to your bike and use your phone to locate. They both use GPS technology to track anything that you attach them to: car keys, phone, bikes, etc.
TrackR is a small, circular device made by a Santa Barbara–based company. Both of these products use the concept of crowdsourcing and GPS. Crowd GPS is based on the idea that if you can't find something, say, your bike, maybe someone else can — as long as they also happen to be using the TrackR or Tile, with Bluetooth turned on and crowd GPS enabled. Your lost bike will give off a unique identifier that can be detected by other people's apps, sending you GPS data about where they are. Crowd GPS relies on strong communities of users. If you live in more densely populated areas, you are likely to have better luck when tapping the crowd to find lost things.
Bryan Hance tried Crowd GPS in Portland and reported that even in an urban city with a large community of cyclists, he got no hits on a lost bike. The other con for both the TrackR and Tile is that they have a very limited range if mounted inside a bike tube, stem, or handlebar.
So, if you love your bike — lock it securely. If you register your bike, you'll have a chance of recovering it if you were a foolish and locked it on State Street overnight with a flimsy cable lock. I was lucky that I had homeowners insurance, photos, and a serial number when my bike was stolen. No, it wasn't recovered, but I did get an insurance check that paid for a brand new, bright orange Eddy Merckx!