WEDNESDAY

8/5

Courthouse Fiesta Tours Meet in the Mural Room for a guided tour of the Moorish-Spanish building. Tours happen every 30 minutes. 10am-3pm. S.B. County Courthouse, 1100 Anacapa St. Free. Call 962-6464.

S.B. Mission Docent Tours Trained docents will lead a special tour of this beautiful landmark. 11am and 1:30pm. Old Mission S.B., 2201 Laguna St. Free-$12. Call 682-4713.

DAILY El Mercado de la Guerra Feast on Spanish and Mexican-American foods, shop for crafts and souvenirs, and enjoy live entertainment, all while strolling through this colorful Mexican market. 11am-11pm. De la Guerra Plaza, first block of E. De la Guerra St. Free. Visit sbfiesta.org.

DAILY El Mercado del Norte Enjoy Fiesta foods, souvenirs at the Fiesta Bazaar, rides and attractions at the Fiesta Carnival, and icy cold drinks and live entertainment at the Crazy Horse Cantina. 11am-11pm. Mackenzie Park, State St. and Las Positas St. Free. Visit sbfiesta.org.

DAILY Fiesta! At Paseo Nuevo Enjoy performances by Linda Vega Dance Studio, Teka & Bossa, Flamenco! S.B., and others. Noon-6:45pm. Center Ct., Paseo Nuevo, 651 Paseo Nuevo. Free. Visit paseonuevoshopping.com.

Casa Cantina This annual Mexican-style cantina invites all to relax, sip a cold drink, and celebrate at the home of Fiesta. Noon-midnight. Casa de La Guerra, 15 E. De la Guerra St. Free-$10. Ages 21+. Call 965-0093 or visit sbthp.org.

La Fiesta Pequeña This "Little Fiesta" will have traditional songs and dance from Californios, Flamenco, Spanish classical and Mexican folklórico. There will also be special appearances and special performances by the 2015 Spirit. 8pm. Old Mission S.B., 2201 Laguna St. Free. Visit sbfiesta.org.

Montecito School of Ballet Fiesta Performance Marjorie Luke Theatre, 721 E. Cota St. [TK I emailed them for event info].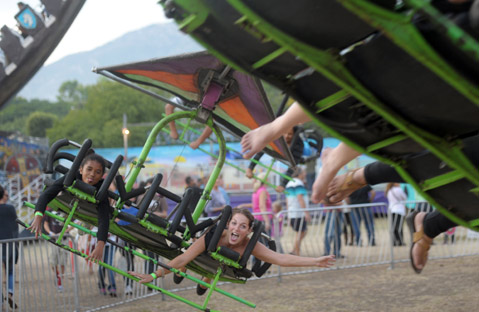 By Paul Wellman (file)