She's been posting numbers never before seen in the Santa Barbara High School scorebooks. You think of Pistol Pete Maravich at Louisiana State University. You think of Kobe Bryant when he was carrying the Lakers. Here are some highlights of junior forward Amber Melgoza's 2014-15 basketball season through last weekend:
• High game: 50 points last Saturday night in an 89-76 victory at Fontana's Summit High, sending the Dons into the CIF Southern Section Division 2AA semifinals. It was the third time Melgoza broke the school record, following December games of 48 and 47 points. Holly Ford had set the previous record of 45 points in 1980.
• Season total: 962 points in 28 games, a 34.4 average, the highest reported in the state. "It's a big deal when a player scores 1,000 in her entire career," Santa Barbara coach Andrew Butcher noted. Only three other CIF-SS female players have exceeded 1,000 points in a season. (Cheryl Miller, the leader with 1,197 in 1981-82, did it twice.)
• Career total: 1,950 points, eclipsing the school record (1,804 by Lisa Willett, 1997-2000) in her second season as a starting player, with at least one more play-off game and another full season ahead of her.
But the cold figures do not completely represent the excitement Melgoza foments on the basketball court. On the night she surpassed Willett's record, scoring 39 points in a 68-62 victory over Buena, I charted every play she made. Here are some of my notes:
"Wins the opening tip (at 5'10", she is the Dons' tallest player) … fires a 40-foot pass to Jada Howard, who scores."
"Breaks away at half-court and is collared by a flagrant foul. Makes both free throws."
"Air-balls a three-pointer, bites the collar of her jersey in vexation."
"Leaps to snag an offensive rebound, scores the put-back while falling on her butt."
"Forces a Buena dribbler into a back-court violation."
"Dives on the floor to save a loose ball under the basket."
"Drives at breakneck speed, banks the ball in as a hard foul sends her sprawling. Converts the three-point play."
"Outruns the defense and takes a 50-foot pass from Kimberly Gebhardt to the hoop."
"Scrambles on all fours, trying to retrieve a loose ball. She leads the league in self-takedowns."
"Another shot goes in off the glass as a foul knocks her down … and one."
Just where did this ponytailed practitioner of hardwood heroics come from?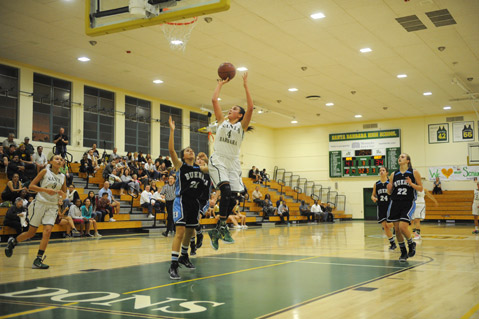 By Paul Wellman