About a decade ago, I stepped foot in San Francisco's Ferry Building, and the epicurean corner of my mind was blown. Oysters on the half-shell here; fresh-baked sourdough there; casual cafés and burger joints right in front of me; sit-down Asian noodle restaurants and Mediterranean bistros across the way; wine, beer, juice, and coffee everywhere. I thought about moving in.
Opened in 2003, this food-and-drink marketplace breathed fire into what would become the country's hottest culinary trend: the coast-to-coast development of what are collectively being called "food halls," loosely defined as places where multiple establishments offer a wide variety of food and/or beverage experiences under the same roof.
It's not a new concept. Public markets with food-serving stalls are prevalent in the Old World, and here in America, Philadelphia's still-kicking Reading Terminal Market opened in 1892, Seattle's Pike Place in 1907, and Los Angeles' Grand Central Market paired restaurants with grocery offerings as far back as 1922.
Packaged goods and produce still fly off the shelves of some American food halls, but today's version ​— ​often built by urban-renewal-minded developers repurposing outdated, industrial warehouses​—​is dominated by food-and-drink-serving establishments. They're kind of like the food courts of suburban malls, yet focused on artisanal, boutique-sized, entrepreneurial purveyors rather than national fast food chains. And the quality bites and beverages are just part of the equation: These modern food halls, often designed with sleek urban touches of wood, metal, and stone, place great emphasis on the communal visitor experience, making them a place to see and be seen.  
Santa Barbara is home to four such developments: the Santa Barbara Public Market on West Victoria Street at Chapala, which opened to much aplomb in 2014 with more than a dozen vendors and recently retooled its offerings; The Mill at East Haley and Laguna streets, which opened in 2015 and features a barbecue restaurant, working winery, and working brewery; The Waterline, which opened on lower Santa Barbara Street in the Funk Zone in May 2016 with its first two tenants and expects to unveil the next three in a month; and The Lark complex, which is managed by Acme Hospitality and, since opening in 2013, has become the Funk Zone's de facto headquarters, with restaurants, a wine bar, a wine tasting room, and a recently opened bakery. The latter is also adjacent to a separately managed but similarly minded strip facing Yanonali Street that's home to a brewery, distillery, and two wine tasting rooms. 
S.B.

Public Market

38 W. Victoria St.; 770-7702; sbpublicmarket.com

Urban Developments' Marge Cafarelli developed and owns the property; she is also a co-owner of many individual businesses inside and leases out other spaces to tenants.

Square footage: 15,200, with 4,527 more of storage

Number of businesses: 11 operating; 3 vacancies

On-site parking spaces: 42

Occupancy: 400

Date opened: April 12, 2014

Estimated employees: Approximately 180-200

Development history: Submitted April 2009, broke ground June 2012, opened in April 2014

General hours (individual tenants vary): 7:30 a.m.-11 p.m.
All are unique in structure, both physically and financially, and each combines an eclectic array of vendors. But they were created under that same artisanal-food-and-drink-in-a-repurposed-space ethos that's pushing the national trend, and have all faced similar challenges in getting their projects through the City of Santa Barbara's permitting process, where concerns about adequate parking largely rule the roost.
Passion and Permits
Sherry Villanueva began treading down this food-hall-esque path in 2011 when she started envisioning The Lark and its surrounding establishments, which redeveloped what was once a fish-processing warehouse. "Reuse of these large industrial spaces lends itself to multiple concepts," she said. "Any one of these independent ventures can't carry the burden of a large space on its own, so you need partner tenants to make it work." Plus, customers like it. "We want our guests to feel that sense of discovery," she said of visitors moving, for instance, from lunch at the Lucky Penny to sips at the Wine Collective. "It's like a little treasure hunt."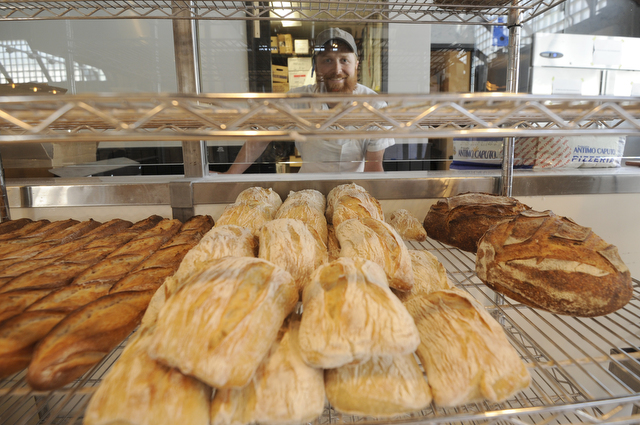 By Paul Wellman