In an effort to fix a huge mistake, Governor Jerry Brown signed emergency bill AB21 which strikes a paragraph from the marijuana regulations drawn up by the State Legislature in September. Local governments no longer need to have laws in effect by March 1 to protect their rights to license pot growers and either ban or allow cultivation. Too bad this was not done months ago as a lot of time and effort has gone into solving this problem in Santa Barbara County by the Planning Department and multiple commissions.
Coalinga Slows Down "Green Rush"
The Coalinga City Council took a bold step recently with plans to permit up to 10 dispensaries within their jurisdiction. Why would they do that? Well for starters they have a deep financial problem and will run out of money within three years. They see this as their opportunity to step in and create new business in their town. Instead of the NIMBY approach that will be followed by most towns, Coalinga might actually create a destination unique between Sacramento and LA on the I-5 corridor. At this time there seems to be no other solution for the city's financial issues.
Not so fast, said the longtime residents, who filled the council chambers a full hour before the recent City Council meeting to update these plans. The local pastors gave impassioned speeches on the evils of marijuana and the crime it will bring. The mayor and council reminded them that the community already has marijuana in plentiful supply on the black market with the supporting crime element. They feel that a legal marijuana industry will actually reduce crime and possibly make Coalinga a tourist destination unique along the heavily traveled I-5 corridor.
In the end the council kind of caved in and agreed to slow down and do more research. That's too bad, because if Coalinga was going to cash in on the "Green Gold Rush," the city needed to move fast. Do they really think they are the only city in this situation? Other more aggressive townships are sure to take the bite on this potential windfall.
Cannabis Industry in Bull Market
While the stock market enters a bear market, not so with the legal cannabis industry, which is growing rapidly, according to ArcView Market Research. On the strength of a 184 percent increase in adult sales, ArcView estimates 2015 total revenue to be $5.4 billion up from $4.6 billion in 2014. Clearly the industry is moving from the lower left to the upper right on the financial charts.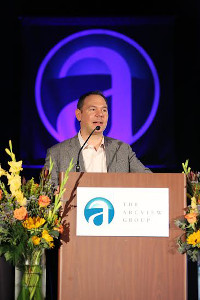 courtesy