A new study shows that 70 percent of city mayors support improving bicycling in their cities. In the Menino 2015 Survey of Mayors, 89 mayors in 31 states responded to questions about their goals, policies, and priorities. These mayors indicated that they would choose greater bike-ability, even if it meant sacrificing parking spaces and car lanes. The study highlights a growing understanding of the important role cycling plays in an effective transportation strategy.
One notable point was the mayors' indication that forfeiting some parking for better biking options would be a worthwhile tradeoff. Eliminating parking can create a sense of worry, especially among local business owners. If there is nowhere to park cars, how will people have the opportunity to visit, shop, and generate revenue for the city?
The parking issue is especially pertinent in Santa Barbara, where narrow streets challenge planners working toward finalizing the new Bike Master Plan. Creating safer, continuous biking routes remains a priority, as gaps in the current routes pose a hazard to current cyclists and a major obstacle for residents who might otherwise ride. Updating the streets requires effort, and flexibility, and sometimes repurposing space once used for parking.
Adding green bike lanes to Micheltorena recently became a point of contention as the lanes would replace on-street parking, eliminating 85 curbside spots. While efforts to mitigate the impact for residents living on Micheltorena should be made, history indicates that area businesses should fare well after the transition.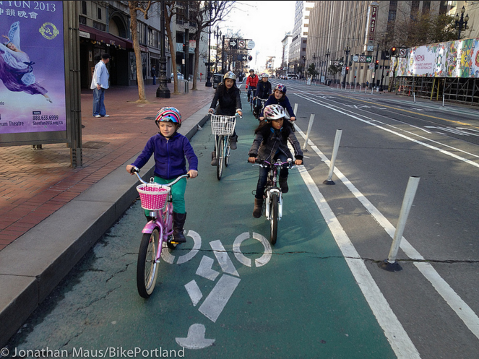 Jonathan Maus/BikePortland.org