Ninety Santa Paula fourth graders sailed to Santa Cruz Island Friday morning alongside Secretary of the Interior Sally Jewell and 24th District Congressional Representative Lois Capps. The two dignitaries flew in from D.C. to give yearlong national park passes to the Grace Thille Elementary School students as part of Every Kid in a Park, a presidential initiative to get children outdoors, and to praise island fox recovery efforts.
In the mid-1990s, Channel Islands National Park biologist Tim Coonan and his team first noticed a drop in the populations of three subspecies of island fox native to San Miguel, Santa Rosa, and Santa Cruz islands. Standing a foot tall and weighing three to 5 pounds, the grey fox relative was most likely brought from the mainland many years ago by Indians.
Photo Gallery
Sally Jewell Visits Santa Cruz Island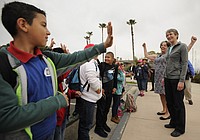 Secretary of the Interior Sally Jewell and Congressmember Lois Capps joined 90 fourth graders on a visit to Santa Cruz Island.
On developed Santa Catalina Island, where many people own dogs, a canine distemper disease killed 90 percent of island foxes in 1998. The same year, radio collars on San Miguel island foxes revealed they were being eaten by golden eagles, Coonan told The Independent in an interview. As opposed to native bald eagles — killed off by DDT in the 1960s — the nonnative birds preyed on foxes and feral pigs, mule deer, and elk, which were brought to the islands for farming and sport hunting.
By 1999, only 15 foxes lived on San Miguel and Santa Rosa, 55 on Santa Cruz, and 103 on Catalina. Island foxes were trapped in a "one-foot-in-the grave situation," said Coonan. A team of 12 biologists, himself included, began a captive breeding program on the three northern islands. In 2004, four subspecies of island fox became federally endangered under the Endangered Species Act (ESA).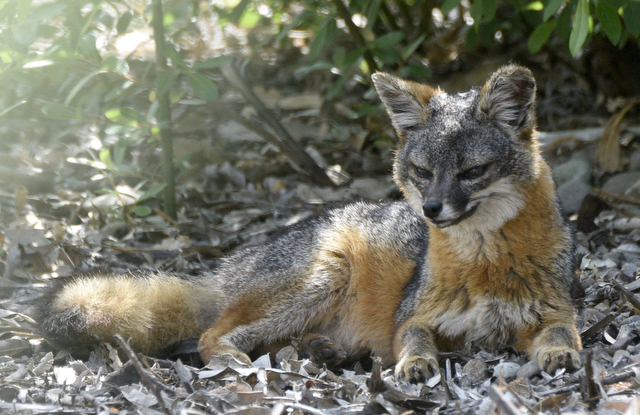 By Paul Wellman