Just before midnight on Tuesday, Democratic Party leaders found it sardonically amusing that they had worried the chosen election night venue, The Mill on Haley Street, would be too crowded to accommodate the wild party they optimistically anticipated. But the mood there was bleak as a dwindling crowd of several dozen trickled out of the open-air courtyard as the night dragged on.
For the Democratic candidates who prevailed — Salud Carbajal (House of Representatives), Monique Limón (State Assembly), Hannah-Beth Jackson (State Senate) — the night was bittersweet. They were just beginning to process the implications of a Donald Trump administration.
Wearing a form fitting, off-white pantsuit — "in solidarity with women everywhere" — Limón remained optimistic about the future of the Democratic Party. "Look what we did locally," she said. Others wore a sadder expression on their faces.
Across town at the Endless Summer Bar Cafe, where the Republicans have long gathered on election nights, the mood was initially surprised at Trump's early run with electoral votes. Though many wore Trump gear and a Trump piñata hung in the front with an American flag in each hand, one person opined, "Even if he doesn't get the party will never be the same."
As of this writing, voter turnout in Santa Barbara County was 55 percent, with 53,900 votes left to be processed, according to the elections office. Key races are not expected to change.
The following is edited notes from conversations with Santa Barbara Democrats and Republicans throughout election night.
Daraka Larimore Hall, chair, Santa Barbara County Democratic Party
What do you make of tonight? This is a global trend — the xenophobic right rising all over the world, and this needs to be a wake-up call to progressives everywhere that after Brexit, we really have to rethink our strategies.
Where do you think Trump supporters are coming from? We are living in a bubble. We have to feel that racism is racism — and there is racism driving this vote for sure — but also see that the solution to it can't really be calling them deplorable and being all, "The urbanite women and people of color are going to save us." Nope. So you have to give them something to vote for.
Black votes — most loyal Democratic voting group. Poll them on gay marriage. Poll them on divorce. Poll them on all kinds of stuff. They are not with us. It's getting better … but they are super loyal Democrats. What the hell does our party give to an out-of-work factory worker in Ohio? We sent their job overseas. We told them we wouldn't. Our president is out there doing the hardest ball he's done as president to pass TPP [Trans-Pacific Partnership]. That's how he spends his political capital? And then we're like, oh, they voted against us? It's not that we'd get them all if we moved in a more populous direction with economics, and I'm not trying to be naïve about it, but it's really hard to run someone so intimately tied to Wall Street and so unpopular in so many ways and say, "Overcome your sexism and your racism and your class radar that this person is not on your side." But we give them nothing.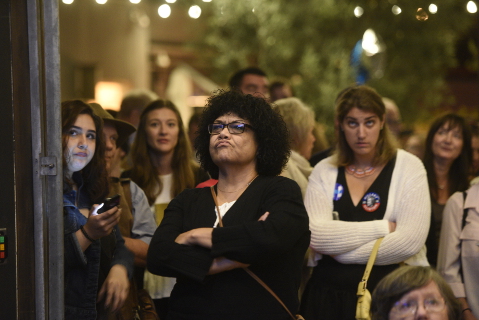 By Paul Wellman