After 15 years of attempting to regulate where RV dwellers can and cannot legally park, the Santa Barbara City Council voted unanimously to ban all RVs from parking on any city street. Likening past enforcement efforts to "whack-a-mole," councilmembers adopted an entirely new legal approach based on vehicle size. This approach, they hope, will effectively inoculate them against all but certain lawsuits alleging bias and discrimination based on income and status. "We don't really care about what's going [on] inside the vehicle," declared City Attorney Ariel Calonne. "What we care about is the mass of the vehicle."
Under the new law, no mention is even made of RVs; instead, it refers to "Oversized Vehicles," defined as anything longer than 25 feet, wider than 80 inches, or taller than 82 inches. City police say the presence of RVs in neighborhoods ranks as the number one "quality of life" complaint they receive. But the new law is strategically silent about the economic status of the occupants or their behavior. Instead, the issue is couched as traffic safety. City streets, built 90 years ago, are too narrow to accommodate wide-rumped vehicles without causing visibility and maneuverability issues for oncoming motorists, pedestrians, and cyclists.
For one hour, Calonne delivered a crash course detailing the past 15 years of enforcement frustration, including three lawsuits filed by Homes on Wheels on behalf of RV dwellers. He also outlined the growing impatience of the courts with municipal efforts to run the homeless out of town. Although many critics in the council chamber made it clear they thought his whole strategy was a ruse to disguise just that, Calonne pointed out that City Hall has spent $46 million on various programs to help the homeless since 1991. "The image of wealthy Santa Barbara putting the jackboot of authority on the necks of the homeless sells papers," he said, but was at odds with objective reality. For example, he noted how the New Beginnings Safe Parking Program currently provides nighttime parking spaces for 115 four-wheeled "homes" throughout the South Coast.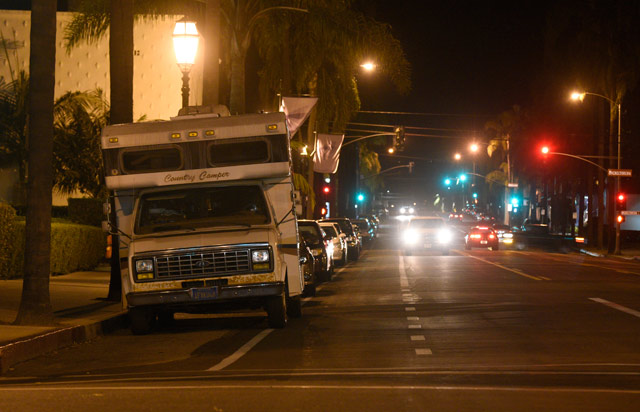 By Paul Wellman