For Santa Barbara's March for Science on Saturday, thousands crowded into De La Guerra Plaza, the surrounding street and sidewalks, and even up the stairways of the buildings facing the grass.
"We haven't missed a march yet!" said Joanna Lampert, an Oxnard resident, speaking of the series of protests that have followed Donald Trump's election to the presidency.
Susan Epstein, a Goleta Union School District board member who acted as emcee, reminded marchers that this was a peaceful protest, but the warning wasn't necessary. The crowd was relaxed and upbeat, laughing at political jokes and answering the science trivia questions that Epstein asked between speeches. Signs showcased STEM humor ("Alternative Facts = √-1"), topical references ("Fund Science Not Walls!), and some more whimsical approaches ("We are your canaries and we are freaking out!") Some protesters wore lab coats or crocheted hats that resembled brains, and dogs were everywhere, some sporting signs (think "I dig the earth").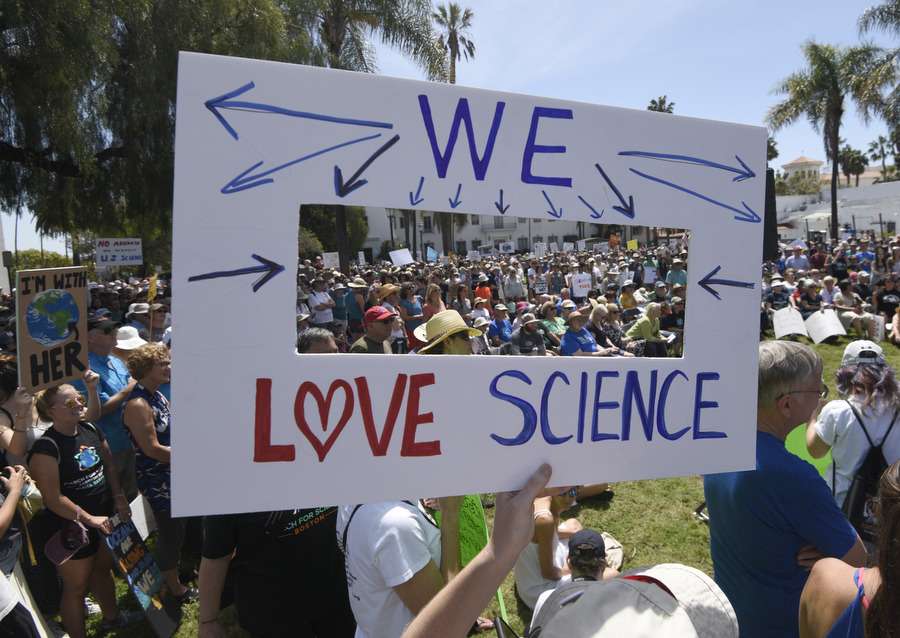 By Paul Wellman