News
Santa Barbara Marches for Science
Five Thousand Demonstrators Politely Fight for Facts Under a Post-Truth Administration
For Santa Barbara's March for Science on Saturday, thousands crowded into De La Guerra Plaza, the surrounding street and sidewalks, and even up the stairways of the buildings facing the grass.
"We haven't missed a march yet!" said Joanna Lampert, an Oxnard resident, speaking of the series of protests that have followed Donald Trump's election to the presidency.
Susan Epstein, a Goleta Union School District board member who acted as emcee, reminded marchers that this was a peaceful protest, but the warning wasn't necessary. The crowd was relaxed and upbeat, laughing at political jokes and answering the science trivia questions that Epstein asked between speeches. Signs showcased STEM humor ("Alternative Facts = √-1"), topical references ("Fund Science Not Walls!), and some more whimsical approaches ("We are your canaries and we are freaking out!") Some protesters wore lab coats or crocheted hats that resembled brains, and dogs were everywhere, some sporting signs (think "I dig the earth").
Protesters expressed frustration with the current administration's climate-change denial as well as threats to research funding and scientific freedom. But they were also at the march for constructive reasons: to show solidarity, make their voices heard, and find a way forward. "It's a feeling of community, a way to relieve that feeling of anxiety positively," explained Lampert.
Alex Dorsett, a Physics graduate student at UCSB, was there with his dog Leela, who wore a sign declaring "Dogs fur Science." "Being in a STEM field, it's important to show my support," he said. "I'd feel bad taking funding and not standing up for other [scientists'] right to funding." Kyle Neumann, a fellow UCSB grad student in the EEMB department who wore a bright blue, fire-retardant lab coat ("It's what I had at home") wanted to promote more awareness of science: "We're often wrapped up in our work, our own little world," he confessed.
Speakers included State Senator Hannah-Beth Jackson; Dr. Karl Hutterer, Emeritus Director of the Santa Barbara Museum of Natural History; Dr. Denise Knapp, Director of Conservation and Research at the Santa Barbara Botanic Garden; Debora Iglesias-Rodriguez, a Biological Oceanography professor at UCSB; Mayor Helene Schneider; and Raeanne Napoleon, a Chemistry professor at SBCC.
"Did you ever imagine in your wildest dreams that you would have to be marching for science?" asked Jackson, to who spoke passionately about supporting scientists and "our responsibility to the generations that follow us," to enthusiastic applause. She explained the purpose of proposed SB 51, The Whistleblower and Public Data Protection Act, which she introduced, and which organizers Jorie Mitchell and Hannah Armer wanted the march to support.
Hutterer expressed alarm at climate denial and the dismissal of scientific findings, such as evolutionary theory, that conflict with religious beliefs. Knapp asked listeners to reach out to a broader audience with a "simple message": "Biodiversity is life. Let's protect it."
Iglesias-Rodriguez highlighted science's importance in countering "myside bias" — our tendency to seek out and take more seriously information that supports our beliefs about the world — and reminded her audience that health and quality of life depend on science. Schneider, emphasized keeping science at the forefront of political decision-making and individual activism. And Napoleon argued for active citizenship in the sciences — "it sometimes has to be about taking to the streets…and saying 'Nope!'" — and a commitment to acknowledging science's sometimes problematic history.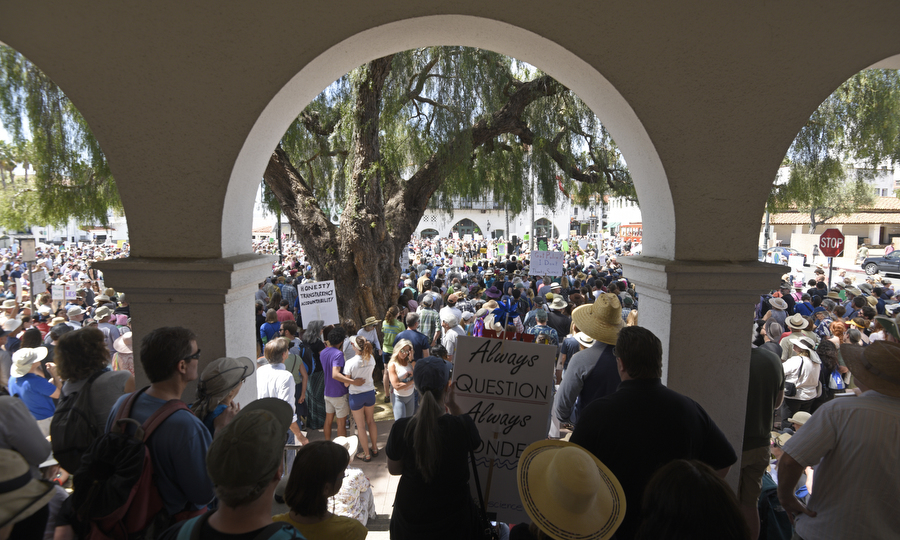 Five thousand protestors marched along State Street, police estimated, chanting "Hey hey, ho ho! Science denial's got to go!" and "What do we want? Science! When do we want it? After peer review!" In the State Street tunnel under the freeway, as the procession turned around at Yanonali Street, protestors coming back cheered for fellow marchers further down the line. Police were stationed at cross-streets, but interactions were pleasant and low-key. Bystanders watched, took photos, and sometimes called out support to the protestors.
Turning right on Micheltorena, marchers entered the Earth Day festival in Alameda Park and began to meld with the crowds, some handing their signs to a self-proclaimed "sign valet." On the corner of Micheltorena and Santa Barbara streets, a protestor listening to a friend's concerns offered what could have been a slogan for the march: "We need to be optimists."