There are plenty of mothers who are either adamantly opposed or extremely resistant to letting their boys play football.
Then there's Janet Harris. "My mom grew up with 11 brothers in Iowa," John Harris said. "She's rough and tough. She was an all-state basketball player. She's the one I play catch with." She's also the one who insisted her son play tackle football. "I took him to sign up for the YFL when we moved to Santa Barbara in 2010," Janet said. "He got out of the line and said, 'I don't want to play.' I grabbed him by the collar and put him back in line. Boys don't get from other sports what they get from football. My son has grown so much, become so strong."
John Harris is entering his senior year at Bishop Diego High as the top running back and one of the best all-around athletes in the city. At 6'2" and 205 pounds, he's a dynamic combination of power and agility. Coach Tom Crawford sees multiple ways he can lead the Cardinals this fall.
Harris averaged more than eight yards a carry while racking up 1,309 rushing yards last year. "There were four games when he had fewer than 10 carries," Crawford said. "He could have run for 250 yards in each of those games, but when you're up by 30 points, you don't need that. He's a humble kid. I never heard him grumble or say a single thing about wanting the ball more, needing more carries."
The senior is a two-way player. "As a freshman, he started at defensive end," Crawford said. "He's played outside backer, and he's a heck of a safety. Last year, we spot played him at safety, and we used him as a pass-rushing d-end."
Harris's versatility extends throughout Bishop Diego's athletic program. He played basketball as a freshman and sophomore, and last year he was on the soccer team. In the spring, he played volleyball. He said he'll go back to basketball this year, and then, he said, "I'm thinking about baseball." That would make him a five-sport athlete in an era when few students play as many as three sports.
It's football that he'll play in college. Because he's a straight-A student ​— ​sporting a 4.52 grade-point average with advanced placement classes ​— ​he has attracted the interest of Ivy League schools. He's visited Harvard, Yale, and Columbia.
UC Davis is also in the picture, Harris said. He's in no rush to commit. "I'll want to stretch it out as long as I can and get the best picture of all the options," he said.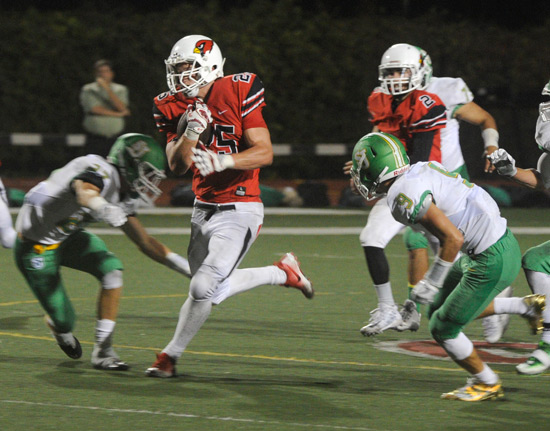 By Paul Wellman